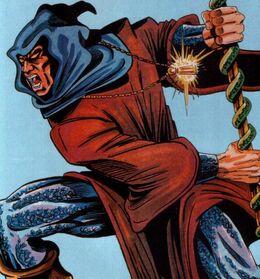 Xavier Pendragon (always referred to as just Xavier) is a scientist, alchemist and member of the Eternal Champions.
Previous Life and Death
Xavier completely dedicated his life to the study of science. After failing as a blacksmith, he moved on to alchemy and worked towards a solution for the problem of turning metal into gold. Instead, he discovered the secret of an unlimited and clean energy source. Unfortunately, before he could pass on this information to future generations, he was denounced as a warlock and burned at the stake.
Eternal Champions
Moments before death, Xavier was saved by The Eternal Champion and brought forward to Fortress Eternity in order to participate in a life or death tournament. He initially believed himself to be in heaven and possibly understood the alternative even less, as the alchemist performed little training in anticipation for the forthcoming event. The lack of effort failed to pay off, as his magic caused a stalemate with opponent RAX Coswell and the battle resulted in them both being sent back to finish off their deaths.
Xavier was later saved by a pact observed by Midknight and Shadow Yamoto, with the Champion returning to fulfill a mission along with the other eight. As training continued, Xavier watched on when Slash trapped himself in The Battle Room, refusing to help the neanderthal out of his predicament. The Eternal Champion explained to a horrified Jetta Maxx shared a natural emnity due to their conflicting views on fire. Xavier continued to distrust Slash which led to a bust-up in the med wards. Urged by The Eternal Champion, Xavier attempted to put his grudges to one side and shake hands with his foe, agreeing to share the dignity of comrades-in-arms. However, Slash still realises that Xavier thinks little of him and throws the "warlock" into the Battle Room, locking him in there until sunset. Furious, Xavier declares Slash will suffer come that time.
The first key mission finally arrived and Xavier joined the others on a quest to 1994 Tokyo, pledging to stop Nakano Industries from developing the Bio-Key. Inside Nakano's office, he initially proved unhappy about Jonathan Blade's love of violence. However, his first offense proved ineffective, with his magic not turning a guard's weapon into "a useless slab of iron" like he needed. Instead, Xavier smashed his snake-adorned staff into the man's head. The second battle gave Xavier even more emnity towards Slash, wondering if Slash could ever have the wit to understand martial arts. After teleporting to The Cyberdome, Xavier once again tried to use magic, wishing to bend open a locked door. However, it was Trident who used his physical strength to force it to cave in. The six remaining Champions were forced into a tournament to the death, with Xavier pitted against Midknight. The alchemist seemed to have been defeated at the hands of science, but revealed he was feigning injury, knocking out his foe with a staff to the face.
After being released by RAX, Xavier finally managed to wield magic in his favour, grabbing a cocky cyber-fighter with a spell and throwing him against a wall. Back in 1994, Xavier wasn't seen to be of any use in the final battle against Nakano in his mecha.
Special Moves
Xavier studied the martial art of Hapkido Cane fighting, combining it with his knowledge of science and alchemy. To aid him was a list of physical and magical attacks:
Dragon Trap
Snap Back
Identity Change
Midas Touch
Attract and Smack
Swap Spell
Confusion Spell
Personality
Xavier believes himself to be elegant and distinguished, moving around with grace and style like a dancer. Others believe him to be arrogant and self-opiniated, yet he can maintain a certain dignity. Although a bit of a know-it-all, Xavier is a brilliant scientist and alchemist. He gets on fairly well with Midknight, since they share a fascination with each other's line of work. Xavier also enjoys hot, spicy food.
On the other hand, Xavier's manner of death has left him terrified of fire. For some reason, he also hates horses and anything to do with them. Xavier has little time for the untutored or ignorant and his impatient energy leads to him always wanting to get the next task done. He shares contempt for every hero on the team, but particularly Slash and Trident.
Appearances
Community content is available under
CC-BY-SA
unless otherwise noted.