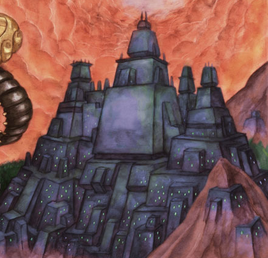 Vichama's temple was an enormous structure on the Floating Island, presumably built by Vichama himself. The spirits of Vichama's victims inhabit the temple, forming much of the malevolent God's undead army.
Several millennia before Sonic the Comic's main continuity began, after the ancient Echidnas lost Tikal in their last battle with Chaos, they defeated Vichama, the God of Death, and his temple was razed. The echidnas built their own monument, the Temple of Tikal, on its grounds, but their efforts were ultimately thwarted as Vichama returned thousands of years later thanks to Doctor Zachary, and his temple reappeared on the Floating Island. As zones across Mobius were having every trace of life sucked out of them, Knuckles and Tikal entered the temple in search of answers, and came face to face with Vichama himself in his true form. They managed to escape,but Vichama soon caught up and killed Knuckles without a second thought. Knuckles was later resurrected and defeated Vichama in the Guardian Stone chamber.
What become of Vichama's temple in the aftermath of the battle is unknown.
Community content is available under
CC-BY-SA
unless otherwise noted.