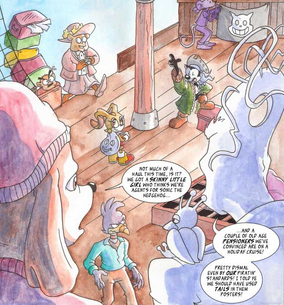 The Tale of Cream the Rabbit is a complete Sonic the Hedgehog story which appeared in Sonic the Easter Special.
Staff
Story
Following an internet banner ad showing Sonic the Hedgehog on a recruitment drive, young Cream the Rabbit has headed for the coast in the wee hours of the morning in hopes of joining the Freedom Fighters. She soon ends up on the deck of the Sky Pirates' ship, along with Madge and Arthur, convinced they're on a holiday cruise. Regardless, Cream cheerfully takes up a job in the crew as a deck-hand under the new captain, Simpson, convinced that she can help Sonic through the pirates' connections, and forms a bond with Plunder, demoted to a deck hand before his curse could affect the entire crew. It seems to work, as a falling mast clobbers Simpson just as Plunder is wondering about Cream's 'lucky' rabbit feet. Cream quickly proves to be obsessed with the idea of fighting Robotnik, and repeatedly pesters the crew in their every endeavour, to the point that they give her her own room and lock her in just to shut her up. She remains content however, and continues to post about her exploits on Chirpafriend, but quickly becomes stubborn, refusing to talk to anyone but Filch and Plunder.
It turns out the pirates have received a cease and desist letter from a Metropolis law firm, who have been monitoring Cream's chirps, and Plunder goes in to retrieve Cream's Strawberry from her. He comes clean to her that they're not really working for Sonic and reveals that as long as Sonic is still a fugitive in the eyes of the public, every time she writes about him, she is putting the pirates in danger. He offers her an alternative however: Writing about her adventures with a quill and parchment like a real pirate, and she cheerfully accepts, still holding out hope of meeting Sonic. Plunder immediately retrieves his hat and gear from Simpson, thinking Cream has turned his luck around and retakes his place as the leader of the Sky Pirates, signalling the dawn of a new era, while Cream's pirate life is only just beginning....
Trivia
Simpson changes clothes repeatedly throughout the story, even dressing as Captain Jack Sparrow at one point and Captain Haddock immediately afterward.
Cream shares traits with Marine the Raccoon in this strip; both are hyperactive, female teenagers who begin a life at sea.
This is a rare case of Sonic not making a physical appearance in a story bearing his name.
The story's title font is written in a style resembling the titles of Beatrix Potter's stories, which also often bore 'the Tale of [name]' as titles.
The strip had been years in the making, with several references made to a Cream pitch on the forums.
Huxley revealed that the story would originally have been released around the time of Issue 249. This went some way to explaining the gap between major Sonic stories and why the hedgehog's likeness was used in the Sky Pirates' adverts.
One can see a poster of Fabian Vane on Cream's wall. You can also see a poster for a star named Justin Beaker, an obvious parody of Justin Bieber (who would later be parodied in Sonic Boom as Justin Beaver).
Reception
Many readers took to the Message Zone to comment on this story, with many praising it highly, some even considering it to be the best Sonic the Comic Online story to date. The majority of people complimented the funny, well-written script, nice art and the characterisation of Cream. A number of readers agreed that Cream's role was quite like how Nigel Kitching would have adapted the Sega character in the print run. Indeed, Kitching took a rare moment to compliment Huxley on the strip, noting that he was hooked after the first page. The idea to set up a Twitter account for Cream was touched upon and praised.
The return of Plunder and the Sky Pirates was seen as a bigger deal to some than the introduction of Cream. Simpson was praised for his turn as captain, particularly his costume changes. However, it was pointed out that Plunder was much thinner than usual, although Huxley attributed this to his curse.
Not all comments were positive. A couple of people failed to see the good in Cream's characterisation and were turned off by the story. Particular critique was directed at Adamis for his "flat" artwork, an opinion not shared by everyone.
Timeline
The previous Sonic the Hedgehog story was Into the Brink. The next is Sky Chase.
Community content is available under
CC-BY-SA
unless otherwise noted.