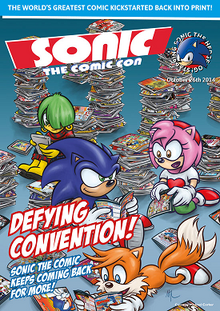 The Sonic The Comic Con Special is a special issue of Sonic the Comic Online. Originally given away as a physical copy- the first new full issue of Sonic the Comic since issue 223- .at Sonic The Comic Con, the comic was uploaded in its entirety as a comic-within-a-comic as part of issue 265 on the 24th of December 2014. The issue contains two new stories as well as bonus features.
Contents
Strips
Sonic the Hedgehog
An Unconventional Convention! is a complete story written by L. T. Fletcher with art by Adamis, Seumidh MacDonald, Pete Murphy and Matt Dittmer. Set between issues 120 and 121, Sonic is the guest of honour at the first ever Sandy Bay Zone Sonic Con, a convention dedicated to him and his fellow freedom fighters. They are all forced into action, however, when a gigantic Badnik attacks the convention hall!
Sonic's World
Stories is a complete story written by Charles Ellis with art by India Swift, Matt Dittmer, Pete Murphy and Claire Ryan. The story examines the power of storytelling as a tool for giving hope in times that seem desperate.
Features
The Control Zone features an introduction from Adam Tuff as well as Megadroid, both thanking the Kickstarter backers for making Sonic The Comic Con a possibility. The Flash Forward Zone is in place of the usual Flashback Zone, with hints at future STC storylines shown, complete with pictures from upcoming issues and concept art. The Pin-ups feature a picture of Knuckles by Tracy Yardley!, Sonic, Tails and Knuckles by Ferran Rodriguez and Sonic and Tails by Michael "Stiv" Stephenson.
The Graphics Zone features art sent in by Kickstarter backers. The Contributors page features a list of everyone who backed the Kickstarter. The Speedlines page feature letters from several former STC staff members (the special guests of the day). Zak Simmonds-Hurn's back page features a picture of Sonic, Metallix and Amy.
Staff
Timeline
The lead strip takes place between issues 120 and 121. The previous special issue was the St. George's Day Special. This next special issue is Issue 266a.
Community content is available under
CC-BY-SA
unless otherwise noted.