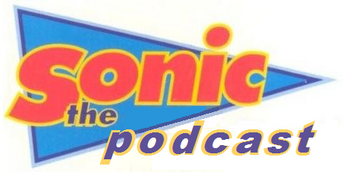 Sonic The Podcast (STP for short) is a podcast dedicated to Sonic The Comic.  It features a revolving cast of regular and guest hosts (see Episodes section below).  The purpose of the podcast is to provide analysis of the classic issues of Sonic The Comic in the hopes of not only entertaining long-time STC fans but also educating and winning over new readers.
Episode Structure
Each episode features a focus on a series of related stories from Sonic The Comic, whether they form part of an arc or they're merely consecutive Complete Stories.  For example, the first episode focuses on the Sonic stories from issues seven to ten- of these four, only two are directly linked to one another.  The hosts take it in turn providing a synopsis of the story and the others may at any time impart their opinions or comments on the story at hand before moving on to the next story.
The podcast is lighthearted in nature and many deviations from the subject matter occur during the course of recording with many of these deviations making their way into the final product.
Episodes
Bonus Episodes
Speed Reading: 20 Years of Sonic The Comic (Uploaded July 24th 2013): Podcast version of L. T.'s STC documentary featuring many fan contributions.
Summer of Sonic 2013 Reflections (Uploaded September 3rd 2013): Stiv, Shay and L. T. take a look back at their day at the 2013 Summer of Sonic fan convention.
The Best and Worst of Sonic & Friends Year One (Uploaded April 18th 2014): Stiv, Shay and L. T. put forth their votes for the best and worst Sonic-related stories for the first year of STC's life.
Future Episodes
Episodes with a focus on Sega Superstars stories will be less frequent in nature and may feature special guests. As revealed on the Message Zone, the next several episodes will cover the Sonic and Tails stories from issues 28-38 and the Shinobi stories, including The Dark Circle.
Future special guests currently scheduled include a returning Adam Tuff, Leeann Hamilton and Pete Murphy, plus Black Dog Brew has expressed an interest in appearing on the show.
External Links
Community content is available under
CC-BY-SA
unless otherwise noted.