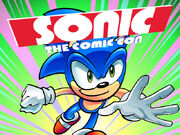 Sonic The Comic Con was a live event taking place on Sunday October 26th 2014.  The convention was a day long celebration of the then-21-year history of Sonic the Comic.  The event was co-organised by Summer of Sonic co-organiser Adam "T-Bird" Tuff and Sonic the Comic Online editors Michael Corker and Stiv with help from the Sonic the Comic Online staff.  The event was held at the Merchant Adventurers' Hall in York, England.
History
On the 22nd of May 2014, it was announced that the annual Summer of Sonic event would be going on hiatus.  Some time after this, SoS organiser Adam Tuff contacted members of the STCO team to get their thoughts on holding a smaller-scale convention themed around Sonic the Comic.  This idea eventually grew into Sonic The Comic Con.
Funding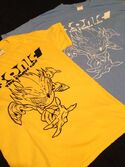 The convention was run as a non-profit venture and all funding was delivered via crowdfunding platform Kickstarter.  The Kickstarter page for the event was put online on the 26th of July 2014 and within 12 hours had reached the initial £1,400 goal- less than 30 backers was all it took to meet this initial goal.  Following this goal being reached, "stretch goals" (additional targets to cover the costs of extras) were put in place to cover the funding necessary to print an exclusive special issue of Sonic the Comic, with the second stretch goal expanding the page count. The Kickstarter concluded with £3,674 pledged- over double the initial target.

Incentives for backers included attendance to the convention (attendance to the event was strictly limited to those who pledged money to the Kickstarter), T-shirts bearing a design by Richard Elson and wristbands.  Two early backers who pledged at least £80 were given hand drawn one-of-a-kind artwork from Ferran Rodriguez.  The special issue of the comic was be sent to everyone who pledged £12 or more before being put online as part of Issue 265.
Events
Meet and Greets with Special Guests: A number of writers and artists from STC's history were in attendance.  Nigel Dobbyn announced via his deviantArt page that he would be attending, which was later confirmed by the event staff.  Also attending were Ferran Rodriguez, Jon Haward, Kev Hopgood, Nigel Kitching, Carl Flint and Richard Elson.  Elson was confirmed as the final guest from the original print run of STC on the 24th of August 2014.
Art Classes and Tutorials: Nigel Dobbyn gave artistically-minded attendees the chance to learn his methods.
Art Competitions: Two art contests were held on the day, with a prize for adults and another for children.
Sonic The Podcast Live: A live episode of Sonic The Podcast.
Original Works on Display: Less an event, more of a feature, the event had displays of a range of artwork from STC and STCO on for guests to peruse.
Q&A Sessions: The special guests took part in interview sessions as well as answering fan queries.
External Links