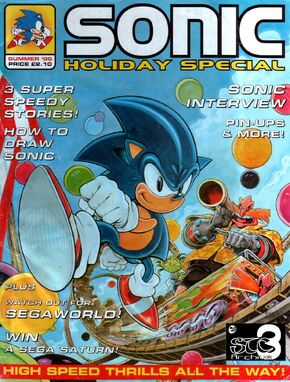 The Sonic Holiday Special (1996) is the third summer special, a spin-off of Sonic the Comic. Released on the 6th July 1996 at the price of £2.10, the issue contains three new, original stories and several features.
Contents
Strips
Break Out! is a 2-part story by Nigel Kitching, Nigel Dobbyn, Tim Bollard and Ellie de Ville. Sonic and Tails have visited the Metropolis City High Security Prison to break out four members of the Emerald Hill folk. Things go well until Doctor Robotnik tracks them down in his Egg Crawler. Sonic jumps in to tackle his foe but is captured and thrown into a wall, seemingly killing him. Fortunately, he has turned into Super Sonic and rips Robotnik's ship apart. He then turns his attentions to a pig who pokes his nose out and destroys him. Tails is horrified and, when Sonic transforms back to normal, informs his friends that he's murdered someone. On the contrary, Sonic shows everyone that the pig was a Badnik spy sent to find out where the Emerald Hill folk were hiding!
Sonic vs Shortfuse is a complete story written by Lew Stringer, drawn by Mike Hadley and lettered by de Ville. Tekno the Canary has given Shortfuse the Cybernik a check-up, but the social call is interrupted when Shorty leaves to fight three EggRobos. One Badnik attaches a Control Disc to the Cybernik and an image of Robotnik tells Shortfuse to kill Sonic. In the Rocky Desert Zone, a fight breaks out between the two but, as a stalemate occurs, Tekno arrives and simply knocks the disc off her friend.
Movie Madness is another complete story by Stringer, Hadley and de Ville. The Freedom Fighters have foiled another Trooper attack and discover that a movie is being made about Sonic. The gang rush off to star in Stephen Squealbird's movie but Tails is unconvinced and heads backstage, discovering the film crew to be Badniks. Meanwhile, Squealbird is revealed to be Robotnik in disguise, trapping the heroes in Mega-Glue. Sonic manages to return the favour and a Trooper frees its master, freeing the heroes at the same time. The filming is shut down as Robotnik escapes and the Troopers destroy themselves.
Features
This summer special is crammed with new exclusive features. The Freedom Fighter Fact Files give brief details about Tails, Amy Rose, Johnny Lightfoot and Porker Lewis. Sonic Speaks Out! is an interview conducted by Microdroid with Sonic, although it is eventually revealed that the guest is a Sonic Badnik and the real Sonic is way too fast to sit down for the press. Out of this Segaworld! is a three page advert for Segaworld and includes a puzzle asking readers to find certain items.
Shortfuse is given an in-depth analysis in Cybernik: The Inside Story!, with detailed information given about his armour (as well as recapping his origins). Richard Elson presents a special on how to draw Sonic, although Robotnik isn't too pleased with the results. "Saturn Steams Up With Sonic X-Treme!" is a preview of cancelled title Sonic X-Treme accompanied by a competition to win a Saturn to play it on. Finally, the last page is a pin-up of Sonic dodging an EggRobo, Butterdroid and Mushmeanies.
Staff
Timeline
The previous special was the first Sonic Holiday Special. The next is the Total Sonic Special.
Community content is available under
CC-BY-SA
unless otherwise noted.