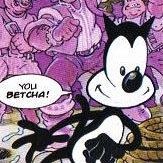 Simpson the Cat is an amateur pirate working under Captain Plunder, and is without a doubt one of the most bizarre denizens of Mobius.
Resembling black and white cartoon characters of the 1920s, such as Oswald the Lucky Rabbit but mostly Felix the Cat, Simpson is capable of manipulating both himself and his environment at will, mostly for comedic effort. This behaviour can be anything from painting a hole in the floor for an enemy to fall into, shining a light from his eyes after swallowing said light, saluting his fellow crew-members by plucking his ears off his head like a hat and having his eyeballs pop out of their sockets when surprised (which notably disgusts Knuckles). His toon abilities also make him difficult to kill or even slightly injure. While the majority of his behaviour is followed with him being told to shut up, and he regularly irritates Plunder, the Captain keeps him around purely because he's a good cook.
Simpson first met Plunder in Highview Corrective Centre where the two were shackled to a wall. Simpson, there for an unrevealed crime, spoke to Plunder about an escape tunnel built by Billy Gulch, but told him too late that the exit was on the other side of iron bars. Even so, Simpson aided in the fight against warder Mister Gullets by painting a hole on the floor that Gullets fell through, as well as conjuring a question mark to pick the cell's locks. Simpson later aided Plunder by conjuring a light bulb to see through the dark corridors. His later adventures would see him reduced to a supporting role, although he was seen to assist Plunder in getting a new crew, as well as being used to test the booby traps near the temple of King Akotek.
Following Plunder's curse, Simpson the Cat was promoted to captain in order for Plunder to be demoted to deck-hand. The humourous cat took the role seriously, leading new crewmate Cream the Rabbit to call him "dull". In this time, Simpson led the Sky Pirates on treasure quests and drinking at Scourge Bay. Unfortunately, Cream's presence was diverting Plunder's bad luck onto the new captain, causing beams to fall on him and a cease-and-desist letter to head his way. Eventually, Plunder took his hat back and resumed captaincy of his own ship.
Aside from being a great cook, Simpson is also a keen painter, being able to paint his own hand from a few centimetres away.
Appearances
Community content is available under
CC-BY-SA
unless otherwise noted.