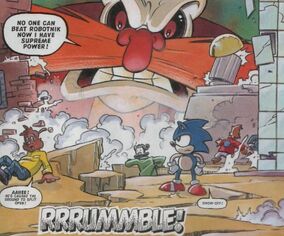 Show of Strength is a
Double Sonic
story which appeared in
Issue 128
of
Sonic the Comic
, alongside and tying in with the second part of
Robotnik Reigns Supreme
.
Staff
Script: Lew Stringer
B & W Art: Roberto Corona
Colour: Nigel Dobbyn
Lettering: Tom Frame
Story
With an omnipotent Dr Robotnik ruling over Mobius, the citizens have nothing to look forward to but misery and despair, as a pair of dogs point out. Just as they state that at least it's not raining, a pair of small thunderclouds appear above them on cue, drenching them. Sonic skids in, eager to help out, but is annoyed that no one knows him, thanks to Robotnik's reshaping of reality. The hedgehog's promises of saving the planet are scorned, before a pair of nearby Troopers prepare to kill all three, for the simple crime of talking in the streets. Sonic smashes the Troopers with ease, offering the oppressed citizens some hope of salvation, before the gargantuan Robotnik looms over them all, splitting the ground beneath their feet wide open. After pulling everyone out of danger, Sonic openly defies Robotnik, at which point the dictator becomes large enough to hold Mobius in the palm of his hand and threatening to crush the planet there and then. Not that he would, as Sonic well knows: while Robotnik could destroy Mobius with ease, he would have nothing to rule over. Robotnik agrees as he returns to his usual size and begins to disappear, cackling like a maniac as he does. The terrified citizens wonder aloud how Robotnik can possibly be defeated, but Sonic remains calm and defiant: Robotnik has let them live, and that will be the dictator's first mistake.....
Timeline
The previous Double Sonic story was Taking the Plunge. The next story was Game On!. The next Sonic the Hedgehog story, concluding the Robotnik Reigns Supreme arc was Showdown.
Community content is available under
CC-BY-SA
unless otherwise noted.