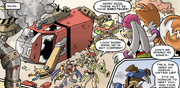 The Scrap Mobians are a group of Freedom Fighters in the Oil Desert Zone who are armoured in Badnik scrap (not the first ones to do so, however). Their chief mechanic is Niya the Gorilla. The group of them managed to destroy a Robotnik stronghold in the Oil Desert Zone with the help of Tails and Holly Thumpfoot.
Membership
Unknown female mammal in Aquis and Asteron armor.
Ant with Buzzer stinger and wings.
Large green waterfowl.
Brown bear with eyepatch.
Dark brown dog with Caterkiller/Sandworm spike balls on shoulders and Buzzbomber head.
Small white bird with jetpack
Snapping turtle resembling a Boomerang Bro. from the Super Mario Bros. series.