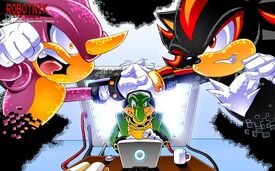 Pin-ups (often known as posters) are pages within Sonic the Comic that are intended to be pulled out of the comic and pinned up to a Boomer's bedroom wall. These posters often contained an original picture of the STC cast and were often unrelated to any of the comic's other content. Pin-ups were usually double-page spreads found in the centre of most issues, although they were also found as single-page pictures or even mega-sized ones that were folded.
Sonic the Poster Mag was a series of nine spin-off comics dedicated to providing a "giant" poster at least twice the size of a usual pin-up. All nine of the magazines contained one poster each and early editions provided nothing else but the poster and a short special feature. Sonic the Poster Mag 3 through to 9 all contained a bonus Sonic the Hedgehog or Sega Superstars strip.
Notable pin-ups include the two-part Buddies & Baddies poster as well as the series of Badnik posters designed by Ferran Rodriguez. Later posters were often based on an older story or were directly lifted from early front covers. Sonic the Comic Online revived the pin-ups, providing them as wallpapers designed to spruce up a reader's desktop. Designs almost always consisted of the front cover (sometimes altered for better effect) and events from previous stories. Summer and Hallowe'en-themed issues often had at least one poster to fit the occasion.The Poster Mags also returned, with pin-ups doubling up as Christmas cards in the Gift Zone.
It is now rather rare to find issues of Sonic the Comic with the posters still attached within its pages. Although full issues have become quite a collector's item, children would often take out the pin-ups once they had been bought the comic, pinned them to the wall and separated them from their original issue. Others may now be damaged due to adhesive or ripped when pulling them out of the staples.
Community content is available under
CC-BY-SA
unless otherwise noted.