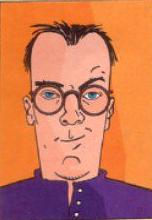 Nigel Kitching is a writer and artist best known for his work as a lead writer for Sonic the Comic. Kitching's first story was in Issue 4 and, by Issue 8, he had become responsible for the direction the comic moved into, with Doctor Robotnik taking over Mobius. Up towards the end of STC's non-reprint run, Kitching shared writing duties with several other authors, notably Lew Stringer, but was fired during the Shanazar arc, leaving Stringer as the only creator. Kitching returned to pen the final 70-page Sonic Adventure story arc and brought Issue 223 to a close with an article on STC's history.
Aside from STC, Kitching has also worked for 2000AD and on other minor publications, sometimes along with other STC alumni. Nigel is an occasional poster on the Message Zone with his own Ask Nigel Q&A thread and has attended the Summer of Sonic convention on at least two occasions.
Kitching has returned to Sonic the Comic Online on two occasions. After drawing the first page of Decap Attack strip Good Luck Chuck, he joined in with the 20th anniversary celebrations of Issue 261, writing In Memory.
Contributions
Listed articles are scripts only, unless indicated otherwise.
Sonic the Hedgehog
Captain Plunder
Chaotix
Decap Attack
Kitching wrote (or co-wrote) every single Decap Attack story, making it his pet project and the most successful Sega Superstars series. He also provided art for the vast majority of entries:
Knuckles the Echidna
Sonic's World
Super Sonic
Tails
Other