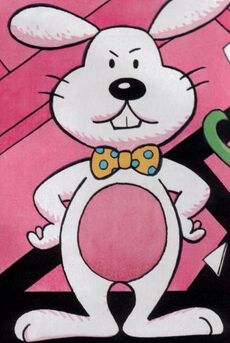 Mr Cuddle Bunny
is an author of a series of children's books in which he is the main star. Throughout the series, he has been associated with several friends who have all made appearances. Due to the success of his writing, Mr Cuddle Bunny is said to be very rich.
History
For years, Mr Cuddle Bunny wrote his stories and children enjoyed hearing them at bedtime. However, not everyone appreciated his works. After recovering from an alcohol addiction, Head was read the stories by Nanny but couldn't bring himself to do the actions. Chuck D. Head and Igor ejected Nanny from Castle Frank N. Stein and spared Head. To stop Cuddle Bunny writing any more books, Igor kidnapped him and locked him in a room in the castle. Unfortunately for Igor, a typewriter and paper was left in the room, allowing Bunny to continue writing. In fact, he enjoyed his new office so much that he requested to carry on living in the castle.
Whilst staying in the castle (unknown to everyone but Igor), his hat remained locked in a glass case downstairs. Cuddle Bunny had been a guest of Professor Frank N. Stein's ten years previously but had forgotten his hat (actually left behind when Igor kidnapped him). Mick C McTosis arrived at the castle, revealing that whoever the rightful owner of the hat was the heir to Cuddle Bunny's fortune. The rabbit arrived to confront McTosis and old friend Timothy Twitch, but suggested having a cup of cocoa rather than fight. He was largely ignored but, eventually, the hat fell back to him. Bunny was happy to hand the hat over to McTosis, but Chuck meddled by flinging the hat (and Head) into the lit fireplace, torching the headgear.
Soon after, Frank dressed up as his hero for a costume party.
Bibliography
Mr Cuddle Bunny had already written many books before his incarceration in Castle Frank N. Stein. Whilst there, he wrote a further 643, although the names of these are unknown. The following is a list of known stories, many of them owned by Nanny:
Notes
"mrcuddlebunny" was the username Nigel Kitching initially signed up to The Message Zone with, suggesting a significant appreciation for this character's name on his part.
Appearances
Community content is available under
CC-BY-SA
unless otherwise noted.