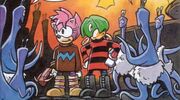 Meek Tribe are one of the oldest forms of intelligent life to grace Planet Granite. The people of Meek Tribe are peace-loving citizens, but the frail people were bullied the neighbouring Thickskull Tribe who wished to conquer Meek's land. It seemed that all was lost until the Meek Tribe were saved by visiting Amy Rose and Tekno the Canary. They were keen to acquire Amy's crossbow and Tekno wanted to teach them how to make their own weapons, but Amy's suggestion was for the Meek Tribe to simply laugh at the Thickskulls should they return. A future encounter saw Meeks and Thickskulls sitting together to discuss their anger, hinting at a non-violent resolution between the two peoples.
Appearances
Community content is available under
CC-BY-SA
unless otherwise noted.