The treacherous reptile Max Gamble is a sleazy businessman and con artist from the Casino Night Zone. Making his first appearance in Sonic the Comic Issue 81, Gamble owned one of the many gambling establishments in the zone. In the Tails story Shock Tactics, the crooked lizard was unsatisfied with Tails's performance during the Badnik Revolution, complaining that the fox wasn't disposing of the Badniks fast enough and that citizens were staying home instead of gambling in his casino - he threatens Tails with being visited by "my boys" if he doesn't sort it out quickly.
Even after the Badnik presence in Casino Night had been eliminated, Gamble was still unhappy since the power lines had been damaged during the fighting, blacking out the area. He's forced to back down when the general public turn on him, saying if he doesn't leave Tails alone they'll never play at his casinos. Angry, he threatened revenge on Tails.
Since then, Max has harboured a grudge not only against Tails but all heroes in general. While his first appearance just implied he was a gangster, in later appearances this was made explicit.
Criminal Record
Thrillworld
In Issue 85, Max operated the Pit Plunge Roller Coaster ride at the Casino Night Zone's Thrillworld Theme Park. On the surface, it appeared to be just another thrill ride. Inside the Pit Plunge, however, was a cavern beneath the park where Trooper Badniks stood by with a Badnik Processor to roboticize Gamble's customers. Luckily for the park patrons, Shortfuse had his suspicions of Gamble's operation and had disguised himself to blend into the crowd. He rode the Pit Plunge ride and revealed himself after discovering the Troopers. Shortfuse managed to rescue the people and destroyed the Troopers and their processing machine. Gamble claimed he was unaware of the Troopers' activities inside the Pit Plunge and Shortfuse had no evidence to prove his guilt, but he nonetheless destroyed the roller coaster so that Max could no longer profit from it.
Furtual Reality
Max Gamble would return in Issue 96, apparently running the entire Casino Night Zone. In the Tails story Furtual Reality, Max had come up with a plot to take revenge on Tails for his past humiliation: a fake virtual-reality game where the players roamed the Casino Night streets carrying phasers and wearing digital display helmets. The helmets would make the players see anyone as a Badnik and they had to destroy them to win the game. The phasers were very real, though, and Tails had been lured to the Casino Night Zone by a flyer advertising a fan club dedicated to him. Tails fell into Gamble's trap and was attacked by the game players. One player blasted a chunk of concrete off a building and was about to be crushed, not knowing that it was real. Tails pushed him out of the way and knocked off his headset, and the boy told Tails about Gamble's virtual reality game. Tails easily found Gamble (his address was in the phone book) and threw him into his customers' line of fire. Gamble managed to survive the ordeal long enough for his customers blasters to run out of power.
Protection Racket
In Issue 110's The Unbrushables, Max Gamble had built up a mob to terrorize the residents of the Casino Night Zone. Anyone who couldn't pay their protection fees had their homes ransacked. Tails had arrived in town to relax but found himself rallying the citizens into fighting back against Gamble's goons. Later, he found out that Max was funneling money to Dr. Robotnik so that the doctor could finance a new Badnik army to help him re-conquer Mobius. Tails had recorded Max's conversation with Robotnik before the gangsters caught him and he urged them to watch it. After seeing the tape, Gamble's boys turned on him and forced him to give back everything he ordered them to steal from the people.
Con-struction
In Issue 121's Bee Prepared story, Gamble had invited a number of business tycoons from the Eldorado Zone to attend a showcase for a new line of robot builders. It seemed that the robots were purposely faulty: Gamble had planned for the robots to go beserk whilst on the job, but his demonstration model went crazy before the sale and attacked the Eldorado businessmen. Sonic and Charmy Bee were on hand to stop the robot, and Charmy managed to throw the robot's head a safe distance away before its plutonium core exploded. In celebration, Charmy began rabbling and rhyming - as is his habit - and an annoyed Max emerged from hiding and surrendered to Sonic just to get away from Charmy.
Tourist Trap
In Issue 133's Sun-Trap, Max set himself up as a travel agent and sold holiday packages to Flickies' Island, claiming that Dr. Robotnik no longer operated there (which was true) and that the island was safe (which wasn't true). A group of Casino Night Zone tourists arrived on the island and found themselves in danger of Robotnik's remaining defense systems and booby traps. Sonic and Tails arrived on the island after hearing about Gamble's scheme from Tekno, and managed to save the tourists. Sonic and the tourists later confronted Max as the reptile was pushing a wheelbarrow full of cash through the Casino Night streets. Max was surprised to see his 'suckers' had survived Flickies' Island, but he wasn't obliged by law to refund them. Sonic then ran off, causing a draft that sent Gamble's pile of money blowing into the air, where his customers ran in to snatch it back.
Escape From Mobius
Max's crimes where catching up with him and he tried to go into hiding in the Snowcap Mountain Zone. At this time, Amy Rose and Tekno had discovered the Ring of Eternity and had begun their adventures across time and space. Gamble noticed the girls vanish into the Ring and decided to use it to get off Mobius, not caring where he ended up. As it happened, he landed on the world of his dreams - quite literally. Max found himself on the Wish World, an uninhabited planet made up of a strange psychic clay that took shape according to a person's imagination. Max immediately turned the Wish World into his own private fantasy: a bleak, noir-esque city filled with gangsters and organized crime, with Max ruling over everything. For months, Gamble lived happily in his imaginary world, until it was visited by Amy and Tekno. The girls were captured by Gamble's mob and the villainous lizard explained his situation before he attempted to kill them by stuffing them in barrels of cement and drowning them. Amy and Tekno freed themselves simply by wishing it and sussed out the truth about the planet. They then fought Max in a battle of will, conjuring up their own imaginary heroes to fight Max's gangsters. Eventually Max tired his brain out and gave up and the Wish World returned to its normal state: a blank slate. Gamble had hoped that the girls would leave him behind when they left so that he could imagine an intergalactic empire to conquer the universe, but the girls wished for a portal back to Mobius so that Gamble could answer for his crimes. After returning to Mobius, Gamble was presumably arrested and made no further appearances during STC's main run.
Sonic the Comic Online
Max Gamble returned in STC-O, taking up his original job of managing one of the Casino Night Zone's many establishments. This time, however, he was working under Don Long-Legs of The Family and acts as the Don's "legitimate" front man: allegedly, he's gone straight and is helping insect refugees from the Special Zone (who are certainly not Family members) get work out of the goodness of his heart. He also plays chess with the Don from time to time.
He has still suffered the watchful eyes of the Freedom Fighters from time to time, but has not been seen doing anything outwardly criminal in front of them - Sonic only saw him in the same room as the Don when the hedgehog himself was a wanted criminal. Max has even helped the Freedom Fighters against Bleed, and worked with them to get Fabian Vane's concert secured.
Gamble appears to have a base of operations in the Metropolis Zone, namely "Gamble Heights" (Issue 261's "To the Hero of Mobius").
Trivia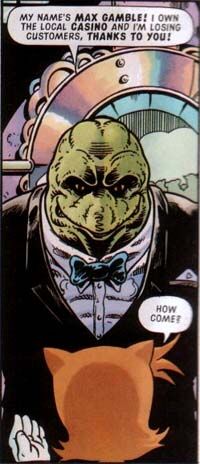 In his first appearance, Max was a huge, imposing monitor lizard. Subsequent appearances made him smaller and less intimidating, and after #100 he had a consistent look as a more cartoonishly-evil, thinner lizard. Outside of The Unbrushables, that first appearance was the only one to present Max as a genuine threat (able to intimidate everyone just by his presence).
While he was a Robotnik loyalist before - and seems to have operated with Robotnik's consent in the RBR days - he's been opposing him after joining the Family.