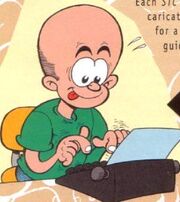 Lew Stringer was a writer for Sonic the Comic and became one of the most regularly-contributing staff members, alongside Nigel Kitching.
Stringer was brought in , in Issue 30, to provide shorter, more humourous stories to contrast with Kitching's serious stories, due to Stringer's previous work in children's humour comics. As he himself has put it: "I was brought in to provide a lighter tone to the stories I wrote. Hence the "childish puns". They were puns aimed at children." [1]
By the end of his employment, he was the only writer still working for STC, his final story finishing in Issue 174.
Lew is known for introducing many popular characters such as Shortfuse the Cybernik, Tekno the Canary, Metamorphia and Commander Brutus, as well as an army of comedic characters like Norris Wimple, Windy Wallis, and Fabian Vane. His stories aren't always so well-remembered, but some have found themselves into readers' "best of" lists; the likes of Project Brutus and Game Over came across well. However, the opposite is also true for strips in the vein of Amy's Secret Past and Bravehog which have been almost-universally panned.
As well as Sonic, Lew wrote Marko's Magic Football.
List of Lew Stringer stories
The majority of Stringer's early stories were Sonic features and were few and far between, with Stringer competing with Kitching, Mark Eyles and other non-Sonic writers. In time, Stringer was given control of the Tails one-shots, before moving on to the Amy Rose series when Kitching ceased writing for her. In the end, as the sole writer on the comic, Kitching took over all the Sonic stories before being replaced himself for the Sonic Adventure story arc.
Issues 1 to 100
Issues 101 to 184