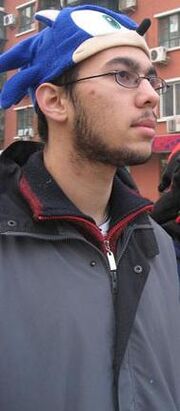 Jin Chan Yum Wai is an artist and letterer who works for Sonic the Comic Online. His style is characteristically more skewed towards Japanese art, complete with sweatdrops and exaggerated facial expressions.
Contributions
Jin was also the star of the Olympic Zone in the 2007 Poster Mag. In this, Jin and his sister Jade enjoyed a visit to family in Beijing during the run-up to the 2008 Olympic Summer Games. While there, the Hume attempted to break the 100m world record on Mario & Sonic at the Olympic Games, but only succeeded in getting in the top 7% of the world.
As part of Sonic the Easter Special, Jin presented the feature "Engine Zone", a video tutorial of how the artist created the final page of Rivals in Issue 256.
Community content is available under
CC-BY-SA
unless otherwise noted.