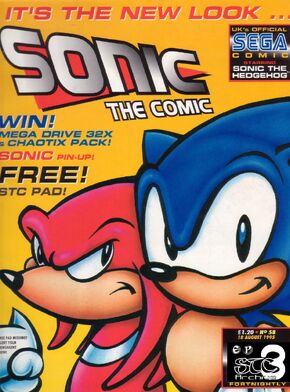 Issue 58
is the fifty-eighth edition of
Sonic the Comic
. Released on the 5th August 1995 at the price of £1.20, the issue contains four original stories as well as several features, a
Sonic the Hedgehog
pin-up
, a
competition
to win a 32X and
Knuckles' Chaotix
plus an STC Pad
free gift
.
Contents
Strips
Sonic the Hedgehog
The Rampage of Mekanik is a 2-part story by Lew Stringer, with art shared by Nigel Kitching and John M Burns, lettering by Ellie de Ville. Sonic has been caught by Mekanik, so Amy Rose and Johnny Lightfoot seek out Shortfuse the Cybernik's help. Before Sonic can be eaten, Shortfuse flies to his rescue but is narked by Sonic's lack of appreciation. A plan is soon formed; Shortfuse weakens Mekanik's leg and Sonic smashes his way inside before shaking the robot apart from the inside.
Kid Chameleon
Back to Unreality! is a 6-part story by Michael Cook, Brian Williamson, Steve White and Tom Frame. Cyclone tears through Islecatraz, destroying the prison guards and freeing the prisoners of Wildside. After leading them to a telepad, Cyclone chases down Brad fleeing on a rowing boat and reveals himself to be Casey.
Knuckles
Total Chaotix is a 6-part story written by Kitching, drawn by Richard Elson and lettered by Elitta Fell. Nack the Weasel has led Knuckles and the Chaotix Crew into a Brotherhood of Metallix trap but he himself has been betrayed. The weasel is knocked out before he can charge his disruptor but Knuckles figures out how to use it, destroying the Metallixes. As Knuckles returns to the Floating Island, the Brotherhood reboot and, with their Pirate Omni-Viewer, they are about to rule supreme...
Sparkster
Last of the Rocket Knights is a 6-part story by Kitching, Keith Page and Steve Potter. Sparkster flies across Zebulos City in search of King Gedol and finds him climbing a building with Princess Shelly in tow. She manages to break free, falling into Sparkster's arms. Gedol tries to kill his enemy, but falls into the river, ending his rule over Elhorn.
Features
A new-look Megadroid welcomes Boomers to a new-look STC and a new-look Control Zone, with the refitted droid introducing the goodies inside. There's also a mention for Speedtrack, the new email messaging service. The Sega Charts see Theme Park and Sonic 2 retain their crowns on the Mega Drive and Game Gear charts, respectively. Powermonger is a new Mega-CD leader and Sensible Soccer moves up to steal first place for the Master System.
A News Zone Extra looks over the Sega Saturn and its new games, but doesn't neglect the older systems and their peripherals. On the same page is the 32X competition, asking entrants to identify Mighty the Armadillo. David Gibbon presents a single-page Review Zone, awarding Street Racer 93%. He also mans the Q Zone, beginning a FIFA '95 special with guides to selecting a successful formation.
Speedlines features letters from Boomers, including one from the Sony Psygnosis competition winner. Megadroid also skirts over a Tails origin story and another reader discusses the return of Ecco the Dolphin. Printed letters and pictures won the readers a Highgrove Sonic Stationary set.
Staff
Timeline
The previous issue of Sonic the Comic was Issue 57. The next is Issue 59.
Community content is available under
CC-BY-SA
unless otherwise noted.