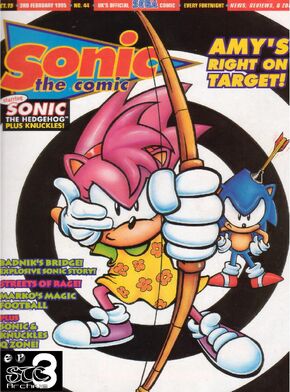 Issue 44
is the forty-fourth edition of
Sonic the Comic
. Released on the 21st January 1995 at the price of £1.15, the issue contains four ongoing stories and several features.
Contents
Strips
Sonic the Hedgehog
Badniks Bridge is a 2-part story written by Nigel Kitching, drawn by Casanovas, coloured by John M Burns and lettered by Ellie de Ville. Amy Rose and Johnny Lightfoot have arrived at the Emerald Valley Bridge to find Sonic in big trouble. They manage to rescue him in Tails' Bi-plane, but he still has to go back and bring down the transporter. A well-aimed arrow from Amy sees Doctor Robotnik's latest plans go up in smoke.
Streets of Rage
The Only Game in Town is a 6-part story by Kitching, Peter Richardson and Tom Frame. Thanks to Sergeant Frank Feroccio, the vigilantes have been saved by a police helicopter. Unfortunately, they are brought down before they can cross East River and Axel Stone gets a savage beating from a gang member.
Knuckles the Echidna
Carnival Night Conspiracy is a 6-part story from Kitching, with art by Richard Elson and letters by Elitta Fell. The Emerald Hill folk have arrived to visit the Carnival Night Zone but Knuckles is busy attacking Badniks. After smashing them all, the echidna then smashes the entire Zone from the Floating Island, sending it crashing down to the Emerald Hill Zone.
Marko's Magic Football
Marko's Magic Football is a 6-part story written by Lew Stringer, drawn by Gary Andrews and lettered by Fell. Marko has just emerged from the sewers but is immediately attacked by a clown. Before Marko can kill him with his magic football, he is gunned down by a sniper. Even so, the Extra Life given to him by Captain Smirk revives him, enabling him to beat the baddies. However, he then loses his football when enticed by a female toy.
Features
Megadroid gives a belated thank you for his Christmas cards in the Control Zone. After introducing the stories and features in the issue, he then reveals the winners of a competition in Sonic the Summer Special. The Sega Charts have completely unchanged leaders this week, with FIFA Soccer '95, Rebel Assault, Jungle Book and The Lion King still topping their respective charts.
An ensemble comes together for this issue's Review Zone; Nick Protz believes that Shaq Fu (MD, 75%) does nothing new for the fighting format and David Gibbon marks down Rebel Assault (MCD, 78%) for repetition and bad backgrounds. The winner is International Tour Tennis (MD, 83%), with Jenny Fromer praising the gameplay options.
Chris Jones presents this week's News Zone, beginning with Metal Head for the 32X. The only other main preview in the feature is Kawasaki Superbikes. Short Bursts briefly cover Jelly Boy, Total Football and the Epcot centre in Disney World. An exclusive feature called "Name That Game!" challenges Boomers to identify a number of games from their screenshots and scrambled titles.
Gibbon returns in the Q Zone to present Part 2 of the Sonic & Knuckles special. This walkthrough covers the final four levels and discusses the difference in gameplay between the two main characters. Speedlines sees Megadroid answer letters about the Zones from Sonic & Knuckles, praise from a Knuckles fan and someone who dislikes Robotnik's new look. Printed pictures won Boomers a Tomy Sonic the Hedgehog Water Fun Game. A Hume Error apologises for the letters in Issue 39 being repeated in Issue 40.
Staff
Timeline
The previous issue of Sonic the Comic was Issue 43. The next is Issue 45.
Community content is available under
CC-BY-SA
unless otherwise noted.