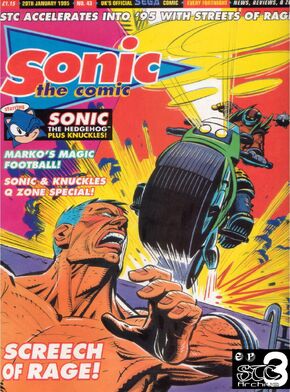 Issue 43
is the forty-third edition of
Sonic the Comic
. Released on the 7th January 1995 at the price of £1.15, the issue contains four original stories (one of them new) as well as several features.
Contents
Strips
Sonic the Hedgehog
Badniks Bridge is a 2-part story by Nigel Kitching, Casanovas, John M Burns and Ellie de Ville. After a performance from Bob Beaky's Travelling Circus, the Freedom Fighters learn Doctor Robotnik is expecting a delivery of a thruster for the Death Egg. Since it needs to be carried over the Emerald Valley Bridge, Sonic heads there and plants some mines. Unfortunately, he is captured by a Special Badnik Service Trooper and the thruster is edging closer to the mines.
Streets of Rage
The Only Game in Town is the final Streets of Rage story, written by Kitching with art by Peter Richardson and lettering by Tom Frame. The four vigilantes are confronted by a gang on motorcycles and Axel Stone bears the brunt of it. Max Hatchet forces one member to reveal Mr X's plot, with him running on a bet on how long the heroes will survive. Fortunately, they are rescued by a police helicopter sent by Feroccio.
Knuckles
Carnival Night Conspiracy is a 6-part story written by Kitching, drawn by Richard Elson and lettered by Steve Potter. Knuckles has been felled by the Marxio Brothers' vehicle and Grouchio Marxio tells Grimer the good news. Unfortunately, Knuckles has survived and attacks the villains as the Carnival Night Zone's first guests arrive. Chicio Marxio has ordered a fleet of Badniks to keep the echidna busy and the hero is running out of time.
Marko's Magic Football
Marko's Magic Football is a 6-part story by Lew Stringer, Keith Page and Elitta Fell. In the sewers of North Sterlington, Marko has discovered dinosaurs coated in green slime but uses his magic football to get rid of them. As Colonel Brown orders his scientist to invent something to stop him, Marko is visited by Captain Smirk who tells him to stop Brown and gives the boy an "extra life".
Features
Megadroid wishes Boomers a happy New Year in the Control Zone and assures everyone that the price is back to normal. There's also news of the United Kingdom's first ever Pro Snowboarding team. The Sega Charts see new entries FIFA Soccer '95 and The Lion King top the Mega Drive and Game Gear charts. Rebel Assault remains the Mega-CD leader but Jungle Book moves to the top of the Master System chart.
The Review Zone is a Sonic special this issue, with David Gibbon handling both titles. Sonic & Knuckles receives 91% and the 8-bit Sonic Triple Trouble is close behind with 87%. This week's News Zone sees Chris Jones new 32X games Cosmic Carnage, Greatest 36 Holes and Super Moto-Cross. He also previews Skeleton Krew, whilst Short Bursts mentions Cadillacs and Dinosaurs, Road Rash II (GG) and Asterix.
This issue's Graphic Zone is closer to a Pixel Zone, with all but one picture being computer drawings of Sonic, Tails and Megadroid. The successful artists won a badge. The Q Zone has Gibbon begin a Sonic & Knuckles special with tips on how to beat the first three levels as either character. Speedlines (with Megadroid's head replaced with bells) includes letters about the price of STC, a Tomy Sonic the Hedgehog Water Fun Game hater and a Boomer requesting a free Mega-CD. All printed letters won the aforementioned water game.
Staff
Timeline
The previous issue of Sonic the Comic was Issue 42. The next is Issue 44.
Community content is available under
CC-BY-SA
unless otherwise noted.