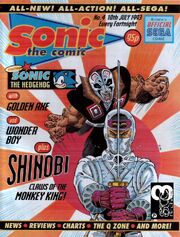 Issue 4
is the fourth edition of
Sonic the Comic
, the UK's official SEGA comic. Released on the 10th July 1993, at the price of 95p, the issue contained four original stories, one of them new, as well as several features.
Contents
Strips
Sonic the Hedgehog
Day of the Badniks is a complete story by Nigel Kitching, Ed Hillyer and Elitta Fell. In the Emerald Hill Zone, inhabitants Stripes and Ruff appear to see Sonic the Hedgehog tearing up the Zone's Star Posts. After a little investigating, Sonic and Tails discover it just to be a Sonic Badnik. The Badnik gets the upper hand in the fight and uses Sonic as an organic battery, but Sonic overpowers his brainwashing and learns that Doctor Robotnik has a base in the Special Zone.
Shinobi
The Fear Pavilion is a 6-part Shinobi story by Alan McKenzie, Jon Haward and Ellie de Ville. Joe Musashi continues on his quest to find Naoko, only to be faced by a Neo Zeed assassin masquerading as the Monkey King. The enemy fights well, but Musashi manages to trick him into defeat and moves on to his final opponent.
The Legend of the Golden Axe
Citadel of Dead Souls is a 6-part Golden Axe strip with writing from Mark Eyles, art by Mike White and lettering by Richard Bird. Ax-Battler and Gilius-Thunderhead have arrived at the Corpselands to rescue Tyris-Flare but have been impeded by Ul-Tima and her army of skeletons. Meanwhile, Sorcerer Blackspell is ready to sacrifice Tyris for the resurrection of Dark Guld but is too slow. Tyris escapes and Dark Guld wakes incomplete, deciding to merge his body with Blackspell's.
Wonder Boy
Wonder Boy in Demon World is an 8-part story, this part completed by Eyles, M DJ Boyann and Steve Potter. Shion has arrived in Fisherton to save the townsfolk from the evil Grimomen and engages in battle with the demons but loses. Grimomen casts a magic spell on Shion's hand before ordering the destruction of the town. Inhabitant Baila leads Shion down a Smuggler's Tunnel to fight a giant worm before handing over an amulet, one that gives the wearer unlimited breath underwater. Once there, Shion comes face to face with an octopus.
Features
This issue's Control Zone, hosted by Megadroid, welcomes Boomers to the comic and thanks everyone for the mountains of submissions so far. As well as introductions to the stories inside, there is also a special profile on Megadroid, such as his operating system, favourite foods, his origin and his favourite game of the moment (Flashback for the Mega Drive). The Sega Charts show the aforementioned game to be topping the MD chart, while Sonic the Hedgehog 2 heads both 8-bit lists.
Tony Takoushi handles all Review Zone duties this week, awarding Wonder Boy in Monster World]] 80%, Streets of Rage 2 (GG) the same score, but only gives Time Gal 60%. News Zone has a special report on the Consumer Electronics Show (CES),with a teaser for Segasonic the Hedgehog, a virtual-reality "Activator", a Michael Jackson simulator ride and various new games. Short Bursts features General Chaos, TechnoClash and a Sonic the Hedgehog 2 guide by Takoushi. A "Graphics" Zone also appeared for the first time, winning artists the same prize as in Speedlines.
The Q Zone is a special dedicated to James Bond - The Duel, with the unknown Game Guru walking players through every level and boss. Finally, Speedlines is largely filled with letters of praise or criticism. One reader decries the words of Mr Oldfash, although Megadroid accidentally reveals in another reply that a letter from "S Morris" was the only negative letter received. There is also a poem and two pictures, all of which won a Sonic 2 Badge.
Staff
Timeline
The previous issue of Sonic the Comic was Issue 3. The next is Issue 5.
Community content is available under
CC-BY-SA
unless otherwise noted.