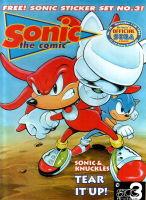 Issue 38
is the thirty-eighth edition of
Sonic the Comic
, the UK's official SEGA comic. Released on the 29th October 1994, at the price of £1.15, the comic contained four original stories and several features as well as a
free gift
of a
Sonic Sticker Set No. 3
.
Contents
Strips
Robotnik's Revenge is a 2-part Sonic story that falls in between the two halves of the Sonic 3 & Knuckles story arc. Written by Nigel Kitching, drawn by Richard Elson and lettered by Ellie de Ville, the story sees Doctor Robotnik continue his onslaught on Kintobor's laboratory with the Freedom Fighters inside. All seems lost, until Sonic and friends get a surprise visit from Knuckles the Echidna.
Larson's Revenge is a 4-part Eternal Champions story, written by Michael Cook, drawn by Jon Haward and lettered by Tom Frame. Crime boss White Orchid is actually Shadow Yamoto, visiting 1920's Chicago to oust organised crime. A botched meeting at the Simpson Quarry reveals that Larcen Tyler isn't the only other person who knows that something is wrong.
Zonerunner & The Flock is a 4-part Tails story, the first in the Zonerunner series. In the adventure scripted by Mark Eyles, drawn by Roberto Corona and lettered by Elitta Fell, Tails is left to fight Nutzan Bolt on his own. The fox tries to flee, but inadvertantly destroys Nutzan with the help of his microputer and a solid door.
Who Killed Chuck? is a 6-part Decap story by Kitching, with lettering by Steve Potter. Having just escaped Detective Case, Chuck D. Head and Head now have to compete with a hungry sewer monster. The beast eats them whole (spitting out a crunchy Head), but ends up vomiting out Chuck. Running away from the monster, Chuck runs right into Case, but Chuck knocks him unconscious.
Features
As usual, the Control Zone welcomes new Boomers to the comic, highlighting the stories inside as well as informing people that Issue 41 and Issue 42 are to be "monster-sized". There is also information on how to follow "The Fireworks Code". The Sega Charts see three non-movers; Super Street Fighter 2, FIFA International Soccer and Sonic the Hedgehog 2 still top the Mega Drive, Mega-CD and Game Gear charts, but Sonic 2 also found itself returning to the top of the Master System list.
The Review Zone, this issue solely manned by David Gibbon, saw a port of Drop Zone for the Game Gear receive 86%, while S.S. Lucifer for the Mega Drive got slightly lower with 84%. The News Zone covers a variety of Sony games (3 Ninjas Kick Back, The Flinstones, Addams Family Values and Frankenstein) as well as a preview of Disney's The Lion King. Short Bursts also mentions Beethoven the 2nd, Double Dragon V, Mega Turrican and Battletech.
This issue sees a Hallowe'en-themed Graphic Zone (despite being 11 days too late), with readers sending in Sonic and Tails dressed as vampires and werevolves, winning them a Sonic 2 Badge. Finally, Speedlines has Megadroid answering letters about the Back Issues Zone, a potential plothole in The Eternal Champions and a Boomer getting a photo with Madonna rather than Sonic. As well as the readers who sent in other Hallowe'en pictures, letter senders received a Tomy Sonic the Hedgehog Water Fun Game prize.
Staff
Timeline
The previous issue of Sonic the Comic is Issue 37. The next is Issue 39.
Community content is available under
CC-BY-SA
unless otherwise noted.