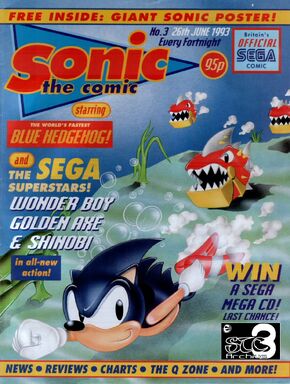 Issue 3
is the third edition of
Sonic the Comic
. Released on the 26th June 1993 at the price of 95p, the issue contained four original stories, several features and a giant
Sonic the Hedgehog
pin-up
.
Contents
Strips
Sonic the Hedgehog
Mayhem in the Marble Zone is a complete story starring Sonic the Hedgehog. Written by Mark Millar, drawn by Casanovas and lettered by Elitta Fell, the story followed Tufftee, a squirrel who stole a pair of Sonic's power sneakers to become a hero. Unfortunately, Tufftee finds himself in the Marble Zone, about to be killed by Badniks. Sonic eventually gets there (after an accidental trip to the Special Zone) and saves Tufftee, but the tables are turned as the squirrel rescues Sonic from a falling spike trap.
Shinobi
The Fear Pavilion is a 6-part Shinobi story, with writing from Alan McKenzie, art from Jon Haward and lettering from Ellie de Ville. Joe Musashi meets his first real opponent on his quest to save Naoko, a spiritual leader from the Neo Zeed. The Shinobi struggles against the old man in the darkness, but instead of relying on direct combat, Musashi wraps his foe in his own robes and leaves him to try and struggle out of them himself.
Golden Axe
Citadel of Dead Souls is a 6-part addition to the The Legend of the Golden Axe series. Part 3 is written by Mark Eyles, drawn by Mike White and lettered by Richard Bird. Ax-Battler fights Rigia Mortius but is quickly defeated by her sleeping potion. Dragged to the dungeons, he sees Tyris-Flare taken to see Sorcerer Blackspell, who plans to transport her to the Corpselands. Rigia is ordered to kill the others, but they overpower her and buy a pair of bizarrians from wizard trader Proffit. Upon reaching the Corpselands, they then must fight an army of skeletons summoned by Ul-Tima.
Wonder Boy
Wonder Boy in Demon World is an 8-part Wonder Boy story, with writing from Eyles, art by M DJ Boyann and lettering from Steve Potter. Demons set up upon Shion, who decides to flee rather than fight. Chased to a cliff's edge, he quickly uses an earthquake spell to get rid of his foes. The spell is too powerful and he ends up tumbling down the cliff. He wakes up in the morning, where he makes his way to Fisherton to stop the demons recruting any more humans.
Features
The Control Zone sees Megadroid continue to request letters and drawings from Boomers, as well as advertising this issue's poster. The Mega Challenge is also mentioned, Kid Chameleon the game of choice, while celebrities are also seen posing with Sonic and Tails mascots. This week's Sega Charts have leaders that are all non-movers, with Super Kick Off 2, Mickey Mouse 2 and Sonic the Hedgehog 2 all topping the Mega Drive, Master System and Game Gear charts, respectively.
The Review Zone covers three games, Tony Takoushi awarding Double Clutch 70%, Afterburner 3 75% and Flash 80%. The "Review Zone eXtra" looks into several peripherals, the controllers looked most closely at. A transparent control pad receives 96%, a similar joystick only 74%, with the 'Sg Fighter' joystick receving 85%. A 'Logic 3' carry case earns 88%, a power adaptor gets a massive 97% and the battery adaptor just 72%.
The News Zone has a preview of Mega CD game Silpheed, as well as announcements about an arcade stick and the Sega Bus. A massive Sonic hot air balloon also features, set to appear at several Formula 1 grand prixs. This issue's Q Zone gives cheats for a variety of games, such as Super Kick Off, Streets of Rage, Wimbledon Tennis and Prince of Persia.
Finally, Speedlines saw people requesting more stories including Tails, asked for an Ecco the Dolphin strip, a Kid Chameleon pin-up, praised the comic's value for money and used the Data Strip to give STC 100% two issues running!
Staff
Timeline
The previous issue of Sonic the Comic was Issue 2. The next is Issue 4.
Community content is available under
CC-BY-SA
unless otherwise noted.