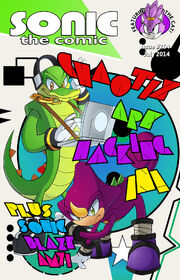 Issue 264 
is the two-hundred and sixty-fourth overall issue of
Sonic the Comic
, and fortieth issue of
Sonic the Comic Online
, released on July 9th 2015.
Contents
Stories
Sonic the Hedgehog
Rise of the Detoniks by Stephen Davis with art by Pete Murphy sees Sonic face off against Robotnik's deadliest Badniks yet- the Detoniks.  The trouble doesn't end there, however, as Sonic must also contend with the pursuing Death-Trap.
Chaotix
Mouse Compatible by Jamie J and with art by Michael Corker sees the Chaotix Crew finally come face to face with the individual responsible for Shadow II, the enigmatic Ichneumon.  Meanwhile, in the digital world, Shadow is offered the chance of a lifetime by Doctor Robotnik.
Blaze
The Order of Things by Michael Corker and with art by TheFatPanda and Claire Ryan features Blaze as she encounters the The Order of Magick and finds herself tested to the limits of her magical abilities.
Sonic's World
The Bride of Fabian Vane is a story by Chris G with art by Mauro Fonseca, wherein Amy and Chrysalis attend the wedding of Fabian Vane to Ilka Webb.  Being the trouble magnet he is, things go decidedly awry for Fabian in short order.
Features
The Control Zone, as always, acts as an introduction to the issue as presented by Megadroid, initially focusing on England's trevails in the 2014 FIFA World Cup. Within this, the Breaking News ticker covers headlines regarding My Little Human, the aftermath of The Bride of Fabian Vane and a mass abduction in the Quiet Shade area of the Spagonia Zone.
This issue's Flashback Zone recaps Knuckles Versus the Cybernik from Issue 52 and teases a future edition that covers The Take-Over.
All pin-ups this issue focus on the Chaotix Crew, with Adamis providing the B&W art for individual wallpapers of Mighty the Armadillo, Charmy Bee, Espio the Chameleon and Vector the Crocodile, as well as a group image of the Crew. Pete Murphy adds his colours to Adamis' cover.
Timeline
The previous main issue was Issue 263, although was directly preceded by the St George's Day Special.  The next issue is Issue 265.
Community content is available under
CC-BY-SA
unless otherwise noted.