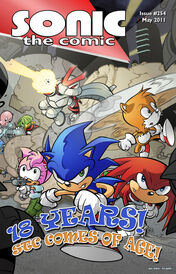 Issue 254 is the two hundred and fifty-fourth edition of Sonic the Comic and the fortieth overall edition of Sonic the Comic Online. Released on the 29th of May 2011, the comic contained four original stories and three wallpapers. The issue also features a cover by STC alumnus Nigel Dobbyn, coloured by Pete Murphy, and marks the departure of colourist Fast Ashadonic, and STC's 18th anniversary.
Contents
Strips
Sonic the Hedgehog
War of the Rose is a complete story written by Jamie J and drawn by Marcus Stockley. For the first time since the war began, Sonic encounters Amy Rose in the Metropolis Zone and tries to prove his innocence. Amy does not accept Sonic's story, and a battle ensues....
Sonic's World
Vane Hopes is a complete story written by Charles Ellis and drawn by Adamis, with Fast Ash providing colour. Fabian Vane's career has been jumpstarted thanks to his 'assistance' in The Battle For Mobius and Amy has been rehired as his bodyguard. But Fabian's latest concert is interrupted when a new Dr Robotnik-controlled mecha attacks.
Tekno & Shorty
Come Crashing Down is a complete story written by Mike Corker with art by Pete Murphy. Set is still alive and blocking Tekno and Shorty the Squirrel's return to Mobius. While Tekno struggles to get the Ring of Eternity working, Shorty is forced to become the Cybernik again to duel the vengeful Set...
The House of the Dead
Charnel House is a multi-part story written by Robert Frazer, with Lisa Lee on art duties. G, the Rogans and Gary begin their assault against the Isle of Dogs Fear Foundry's army of Zombies, despite their chances looking increasingly slim.
Staff
Mike Corker - Editor
Stiv - Editor
Timeline
The previous issue was Issue 253. The next issue was Issue 255.
Community content is available under
CC-BY-SA
unless otherwise noted.