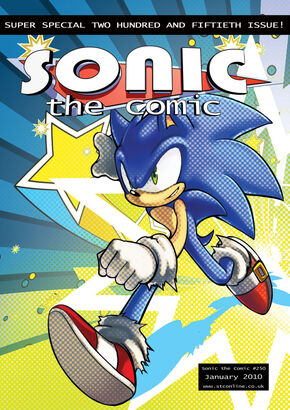 Issue 250
is the two hundred and fiftieth edition of
Sonic the Comic
, the 26th main issue of
Sonic the Comic Online
and the 36th online edition overall. A huge anniversary issue, the edition contained one 26-page
Sonic the Hedgehog
story as well as several features and a large collection of
posters
. it was released on the 9th of January 2010.
Contents
Strips
Sonic the Hedgehog
The Battle For Mobius is a complete story, comprising work from 4 different writers and 15 artists, with Mike Corker lettering and compiling the work. Doctor Robotnik, under the influence of the Drakon Empire, has returned to rule Mobius, just as Sonic the Hedgehog decides to leave the planet forever. Robotnik's won before, but now the planet is ready and everyone is determined to fight this menace, keeping Mobius a free planet.
Features
The Control Zone, hosted by a partying Megadroid, welcomes Boomers to this issue's mega-story and the many features inside. There's also a goodbye to STC-O contributors Ed Reynolds, Zak Simmonds-Hurn and Chris Gould who have left the comic to move on to professional work. Their last appearances for the comic are in The Battle For Mobius, although Zak drew the cover for Issue 251.
The Data Zone recaps the situation of this issue's main characters for new or returning readers. The story so far is that "over two years ago, Sonic made a deal with the alien Drakon Empire to gain the Chaos Tap, a device needed to stop Mobius' destruction...but he knew they might one day use it to launch an invasion! Now, thanks to a media smear campaign and being framed by an old foe, Sonic is Mobius' most wanted and isolated from his friends. Mobius is at its most vulnerable..."
Exclusive to this issue, the Black Knight Zone is dedicated to the STC-O humes who managed to get their artwork into Sonic and the Black Knight. Adamis' image from Sonic CD, Jin Chan Yum Wai's vision from Sonic Adventure and Zak Simmond-Hurn's snapshot from Sonic the Hedgehog 3 all get shown, as well as an interview from each of the creators.
Speedlines, as always, features emails from old and new readers, answered by Megadroid. The Graphic Zone reveals the results from STC-O's competition that requested pictures that showed the "Spirit of STC". Amongst many Boomer submissions, Humes Marcus Stockley, Pete Murphy and Saku also got their artwork chosen.
The pin-up contains the three winning entries from the Black Knight Zone. There's also an STC celebration piece by Murphy, the full artwork of the Turquoise Hill Zone scene from Stephen Davis, the front cover by Team Mobius and the story's final panel by Stiv.
Staff
Timeline
The previous issue of Sonic the Comic Online was The Complete Vichama, although the last regular issue was Issue 249. The next is Issue 251.
Community content is available under
CC-BY-SA
unless otherwise noted.