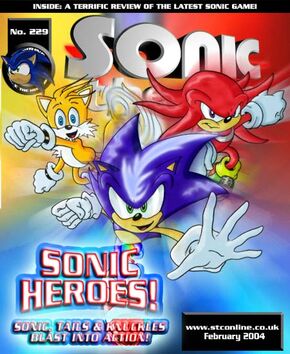 Issue 229 is the two hundred and twenty-ninth edition of Sonic the Comic and the sixth edition of Sonic the Comic Online. Released on the 8th of Feburary 2004, the issue contains two stories, a pin-up and several features.
Contents
Stories
Sonic the Hedgehog
The Syndicate concludes with writing by Ed Reynolds, art by Zak Simmonds-Hurn and lettering by Michael Stewart. Pursued by the insane Dr Robotnik and a legion of Badniks, Sonic makes a bid to rescue Tails and flee the Death Carrier in one piece. However, Sonic is unaware of the Syndicate's ulterior motives....
Knuckles the Echidna
Trouble in Paradise is a complete story written by Ed Reynolds with art by Mike Corker, and lettering by Kerrie Mock. Knuckles has brought the amnesiac Tikal to the ruins of Megopolis City, hoping she can tell him about their ancient world, unaware that Buddy and an unwitting Big are following, hoping to grab the Chaos Emeralds. But that's the least of Knuckles' problems....
Features
The Control Zone sees Megadroid looking forward to the release of Sonic Heroes, introduces this issue's stories and points readers to the mailing list. The feature also presents the introduction of the Message Zone, a message board still active today. To top it off, Megadroid also says you can watch new cartoon Sonic X on ITV every Wednesday. A button at the bottom links to a "Krypt" preview, the new comic team-up from Nigel Kitching and Richard Elson.
This month's Data Zone gives brief details about the characters in this issue (and some that aren't), namely Sonic, Tails, Robotnik, Doctor Zachary, Vichama, Rouge the Bat, Amy Rose, Knuckles, Buddy, Big, Tikal and Porker Lewis. The 'story so far' states that "the insane former dictator of Mobius, Doctor Robotnik, has escaped from prison! Sonic and Tails tried to pursue him, but ended up crash landing on a giant warship, the Death Carrier".
Speedlines features e-mails about the origins of the "Boomers" tag, the possible return of the Sega Charts and Q Zone, another Sonic Adventure adaptation, the forthcoming Sonic Adventure 2 story arc, more returning Boomers and a returning Shortfuse the Cybernik.
An unknown Hume mans this issue's Review Zone, gifting the multi-format title 93%. The reviewer states that the game is "super fast, thrilling & immensely fun" but "some levels can get very repetitive". The only pin-up this week is of Mike Corker's front cover art.
Staff
Timeline
The previous issue of Sonic the Comic Online was Issue 228. The next issue is Issue 230.
Community content is available under
CC-BY-SA
unless otherwise noted.