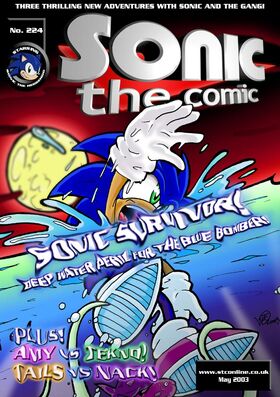 Issue 224 is the two hundred and twenty-fourth edition of Sonic the Comic, and the first edition of Sonic the Comic Online, released on the 29th of May, 2003.
Contents
Stories
Sonic the Hedgehog
Drowned is a complete Sonic story written by Ed Reynolds, with art by Abigail Ryder and based on ideas by Nigel Kitching, Richard Elson and David Bulmer. After setting up Doctor Robotnik's asylum placement, Sonic, Ebony and Porker Lewis search the ocean for the sunken Floating Island and come across an outpost full of Drakon-like creatures. Their store of Chaos energy poses a threat to Sonic, who feels Super Sonic stirring again, but why does he feel a peaceful presence lurking there too?
Tails
Just Like Old Crimes begins, with Ed Reynolds writing and Thalia Evans providing art. Nack the Weasel has re-emerged and started a high profile crime spree in Metropolis Zone. Police Chief Bodger is on the case, but Tails is the only one who seems to be able to handle it. Though Nack is well-prepared for whoever might come after him....
Amy Rose
Amy vs Tekno is a flashback story written by Mike Corker, with Zak Simmonds-Hurn on art duties. In the days of RBR, Robotnik gives Tekno the Canary one last chance to make herself useful: Bringing in the Freedom Fighters dead or alive. In search of them, she finds Amy alone and dispatches a robot to bring her in. Can Amy win, or will Tekno step in to help out?
Staff
Reprint
This entire strip was reprinted as part of the Issue 251 Reprint Special. In reality, the issue was an April Fool's Day prank that made fun of STC's former reprint policy. Even so, the special did contain some improvements, such as cleaner artwork and changed lettering.
Timeline
The previous issue of Sonic the Comic was in print form and was Issue 223. The next issue of Sonic the Comic Online was Issue 225.
Community content is available under
CC-BY-SA
unless otherwise noted.