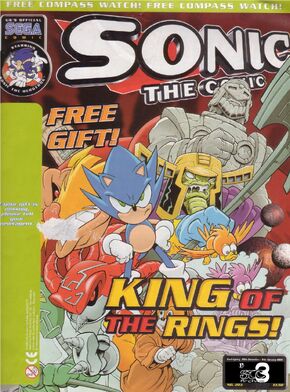 Issue 223 is the two hundred and twentieth-third edition of Sonic the Comic, and the final edition of the comic in print form. Released on the 9th of January 2002 at the price of £1.50, the comic contains a complete reprint of The Evil Empire, an open letter to fans by Nigel Kitching, and a free gift of a compass watch.
Contents
Features
The only full feature in this issue is a 2-page letter from Nigel Kitching to STC's fans. Although it was edited in places and was originally set to appear in Issue 200, the article still contains a wealth of history about Kitching's work. The letter covers Nigel's first stories with the comic, moving on to the Sonic CD story arc and Sonic 3 & Knuckles story arc. He also touches on post-100 creations like the Drakon Empire and the death of Johnny Lightfoot.
Role Call
A small box to the right of the above feature lists many of STC's staff over the years. These include:
Although the list is extensive, there are some that have been missed out. Jim Alexander missed out from the writing credits, but only penned one story. Steve White is the highest-profile artist omission and Annie Parkhouse is not listed for her single story. Several more editorial team members missed out on a place in the final issue, notably Andy Diggle.
Staff
Timeline
The previous issue of Sonic the Comic was Issue 222. STC would not return until Issue 224, the first edition of Sonic the Comic Online.