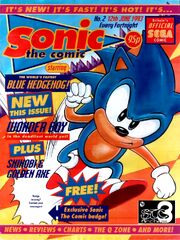 Issue 2 is the second edition of Sonic the Comic, the UK's official SEGA comic. Released on the 12th June 1993, at the price of 95p, the comic contained four original stories, two of them new, as well as several features and a free gift of an STC Badge.
Contents
Strips
Robofox is a complete story by Mark Millar, Woodrow Phoenix and John Aldrich. Following on from last story, Sonic is looking for the missing Miles "Tails" Prower, only to discover that he, along the rest of the Green Hill Zone, has been captured by Doctor Robotnik. After speeding off and bopping some Badniks, Sonic is knocked to the ground by Robofox, the robotic form of Tails. Robotnik comes weighing in with his Checker-Wrecker Ball but Robofox gets a conscience and saves the day with his exo-skeleton.
The Fear Pavilion is a 6-part Shinobi story by Alan McKenzie, Jon Haward and Ellie de Ville. Joe Musashi confronts the Neo Zeed henchmen, quizzing them about the whereabouts of his girlfriend, Naoko. A tough battle breaks out but Musashi easily overpowers them all. After near-strangling one to death, he learns that Naoko was never here and that every floor of the pavilion contains a martial arts master ready to kill him. Joe descends to the first test, a spiritual leader in the darkness.
Citadel of Dead Souls is a 6-part Golden Axe adventure, written by Mark Eyles, drawn by Mike White and lettered by Richard Bird. While Gilius-Thunderhead and Tyris-Flare contemplate a life in the dungeons, Ax-Battler finds himself waking up on the way to the stocks to rot. The disappointed wizard reveals that his friends were taken to the home of Sorcerer Blackspell, so Axe heads there. In the morning, a river creature kills his Bizarrian, but Ax gets the better of a lizard guard and a Hatch Maiden. The confused barbarian tries to attack the image of Blackspell but is eventually felled by Rigia Mortius and her own Bizarrian.
Wonder Boy in Demon World is an 8-part story, this being the first part. With a creative team of Eyles, M. DJ. Boyann and Steve Potter, Shion starts out by fighting a demon from Demon World. His foe tries to convince him that Demon World is a happy trip for humans but, as it vanishes, Shion realises that the village is in trouble and, sure enough, finds it in flames. After rescuing Old Kevin from a well, Shion tracks down the missing villagers of Monster World. After a mishap involving a flaming haystack, Shion tries to free his friends from a cage but is spotted by a guard.
Features
The Control Zone, hosted by Megadroid, introduces all Boomers to the stories and features inside the comic, as well as mentioning the free gift and requests that readers send in their high scores, letters, drawings and suggestions by writing or using the Data Strip. Next to the Welcome Screen is an interview with Damon Hill, member of the Sega-sponsored Williams F1 racing team. The talk covers the relationship between real driving and playing simulations like Super Monaco Grand Prix. This issue's Sega Charts are mainly the same as before, with Mickey Mouse 2 and Sonic the Hedgehog 2 topping the Master System and Game Gear charts respectively. New entry Super Kick Off 2 heads the Mega Drive list.
The majority of entries in the Review Zone are provided by Tony Takoushi, where the Hume awarded 85% to Jungle Strike, 75% to Final Fight, Batman Returns 85% and a familiar 75% for Night Trap. The only other review came from editor Richard Burton, who rewarded chopper simulation Steel Talons with 80%.
News Zone gave Sega players new options of playing their favourite games, with news on the Sega Mouse and the Multi-Tap for 4 players. A try-before-you-buy service in Blockbuster and Ritz stores meant that people could play games like Sonic the Hedgehog and Golden Axe for just £2 a night, something that has become a staple of the entertainment industry. Other news included tour dates for the Sega Bus, information on the Pirate TV advertising campagign and Short Bursts focuses on Muhammad Ali's Heavyweight Boxing, £19.99 Sega re-releases and £15,000 worth of damage from a couple of Sonic the Hedgehog-playing, toast-eating teenagers.
The Q Zone, credited at the end as being compiled by David Gibbon, featured tips on Sonic the Hedgehog (8-bit), World of Illusions, Wonder Boy, Wonder Boy 3 and Lemmings. There were also Game Genie codes for Sonic the Hedgehog 2, Rolo to the Rescue and Thunderforce IV. Finally, Speedlines featured letters asking why Sonic was blue, a response to Mr Oldfash, glowing praise for STC and a request to make Decap Attack into a comic strip. All letters, plus drawings of Sonic and Ecco the Dolphin won the creators a Sonic 2 Badge.
Staff
Timeline
The previous issue of Sonic the Comic was Issue 1. The next is Issue 3.
Community content is available under
CC-BY-SA
unless otherwise noted.