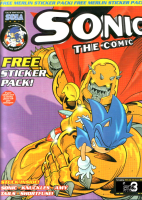 Issue 186 is the one hundred and eighty-sixth edition of Sonic the Comic, the UK's official SEGA comic. Released on the 26th July, at the price of £1.35, the comic contained four reprint stories and a free gift of a Merlin Sticker Pack.
Contents
Staff
Timeline
The previous issue of Sonic the Comic was Issue 185. The next is Issue 187.
Community content is available under
CC-BY-SA
unless otherwise noted.