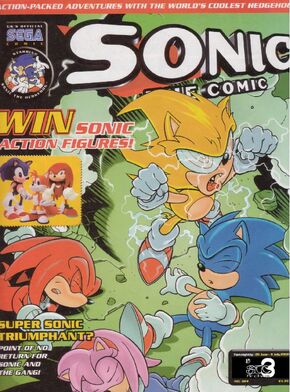 Issue 184
is the one hundred and eighty-fourth edition of
Sonic the Comic
. Released on the 28th June 2000 at the price of £1.35, the issue contains one new, original story and three
reprints
, as well as several features and a
Sonic Action Figures
competition
. The issue is the last edition to feature original stories.
Contents
Strips
Sonic the Hedgehog
Point of No Return! is a complete story by Nigel Kitching, Richard Elson and Ellie de Ville. Super Sonic has absorbed Chaos' power and turned evil once more, proving Ebony wrong. After throwing the Drakon into a pond (being fished by Big the Cat), Super Sonic attacks the heroes. Grimer leaves Doctor Robotnik's employ and Sonic teams up with Ebony, the cat casting a spell that merges Super with Sonic once more.
Features
This issue's Data Zone gives details on Sonic, Tails, Knuckles, Robotnik and Grimer. The theme of this week's Graphic Zone is "Holiday Fun!", with Sonic and Tails enjoying the beach. Featured pictures won the artists a Sonic the Hedgehog watch.
Staff
Timeline
The previous issue of Sonic the Comic was Issue 183. The next is Issue 185.
Community content is available under
CC-BY-SA
unless otherwise noted.