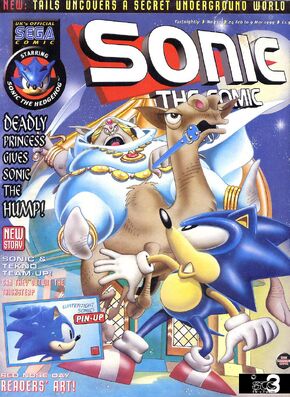 Issue 150
is the one hundred and fiftieth edition of
Sonic the Comic
. Released on the 24th February 1999 at the price of £1.30, the issue contains three new, original stories and one
reprint
as well as several features and an underwater
Sonic the Hedgehog
pin-up
.
Contents
Strips
Sonic the Hedgehog
Robotnik No More? is a complete story by Nigel Kitching, Richard Elson and Ellie de Ville. Sonic is shocked to discover that Doctor Robotnik has turned back into Doctor Kintobor and the kindly scientist explains what happened. After his appearance on Shanazar, he helped repair the town's plumbing system and was installed as Grand Vizier by Princess Kupacious. After a misunderstanding with the Imperial Guards, Sonic and Kintobor are sent on a mission sure to result in death.
Sonic & Tekno
The Trickster is a 2-part story written by Jim Alexander, drawn by Mick McMahon and lettered by Tom Frame. Sonic is forced to deal with a smart missile sent by The Trickster and has to solve riddles involving Mr Fry and the Metallix Mark 3 before he can deactivate it. Tekno does it with no bother and shows Sonic a gateway to a secret Zone.
Tails
Going Underground is a complete story by Lew Stringer, with art from Roberto Corona and Nigel Dobbyn, letting from Frame. Whilst Sonic deals with some Emerald Hill Zone bullies, Tails chases down the victimised worm but accidentally follows "Zeg" into Underzone and is forbidden to leave. However, the Queen relents when Tails saves them all and the fox is happy to escape a life of eating mouldcake.
Features
The theme of this issue's Graphic Zone is "Sonic Relief" and is accompanied by a message urging Boomers to donate to Comic Relief. To mark the occasion, Sonic and Knuckles the Echidna are pictured wearing red noses (mostly whilst posing as clowns), winning the artists a Sonic the Hedgehog watch.
Staff
Timeline
The previous issue of Sonic the Comic was Issue 149. The next is Issue 151.
Community content is available under
CC-BY-SA
unless otherwise noted.