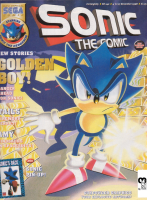 Issue 142 is the one hundred and forty-second issue of Sonic the Comic. Released on the 4th November 1998, at the price of £1.25, it contained three original strips and one reprint, as well as a poster of Sonic the Hedgehog's back.
Contents
Stories
Sonic the Hedgehog
Revenge is a complete story featuring the return of Nack the Weasel. Written by Nigel Kitching, drawn by Roberto Corona, coloured by Kev Hopgood and lettered by Ellie de Ville, the strip sees Nack turn bank robber in an attempt to fool old foe, Sonic. Nack gets the better of the hedgehog with his size-changing cartridges, but he didn't take into account Porker Lewis or the police.
Amy
Day One is an Amy Rose story (along with Tekno the Canary), as part as the Eternity Ring story arc. As part of their adventures, Amy and Tekno find themselves back on Mobius, which has apparently been invaded by dinosaurs in spacesuits and the entire population of the world has been killed! They soon discover that the Eternity Ring has brought them to see the creation of the planet, a reward for all their effort so far. The script was by Lew Stringer, drawing by Roberto Corona, colours by Nigel Dobbyn and lettering by Elitta Fell.
Tails
Rise and Fall is a complete Tails story, written by Lew Stringer, drawn by Mick McMahon and lettered by Elitta Fell. It's Bonfire Night on Mobius and the Green Hill Zone and a giant rocket has been launched to celebrate. Unfortunately, it's been sabotaged by Mad Ferret and is launched straight into the Statue of Freedom. The citizens are dejected and think Doctor Robotnik will now come back, but Tails gives a rousing speech to cheer everyone up and Ferret is locked away.
Reprint
The Sonic Terminator Part 4 is a Sonic story originally from Issue 27. In this part, Sonic and Amy are trapped on the Miracle Planet with Metallix. Metallix begins to draw power from the planet to overwhelm Sonic, until a Sonic from the future turns up with a Time Stone and defeats Metallix temporarily. It's now up to our Sonic to venture into the future and find a way to stop Metallix. The script was by Nigel Kitching, art by Richard Elson and lettering by Ellie de Ville.
Features
The Graphic Zone theme this issue was "Cool Guys...", featuring several firework-themed pictures. There was also a list of tips to enjoy a safe Bonfire Night. Drawings features won their artists a Sonic Analogue watch.
Staff
Timeline