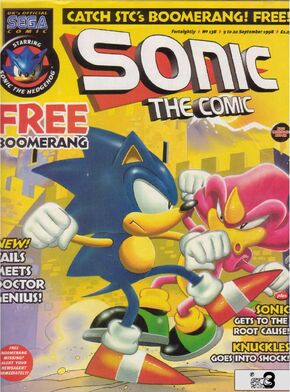 Issue 138 is the one hundred and thirty-eighth edition of Sonic the Comic. Released on the 9th September 1998 at the price of £1.25, the issue contains three original stories and one reprint, as well as the free gift of a boomerang.
Contents
Strips
Sonic the Hedgehog
Roots is a 3-part Sonic adventure, co-starring the Chaotix Crew. Written by Nigel Kitching, drawn by Richard Elson and lettered by Ellie de Ville, this final part saw Sonic face his mind-controlled friends (and against Blockhead Bill and Society Max). Making light work of them, Sonic squares up to Root, discovering his powerful appearance doesn't accurately represent the villain's true identity.
Knuckles the Echidna
The Take-Over is a 4-part Knuckles adventure, and the last in STC's print run. The story was provided by Kitching, art by Nigel Dobbyn and lettering by Tom Frame and saw the intruders, Ms Alpha, Mr Beta, Mr Delta and Mr Gamma, face off with Knuckles one final time. With the echidna seemingly beaten, it's left to Porker Lewis and the Guardian Robots to deal with the threat.
Tails
Doctor Genius is a complete story starring Tails and the eponymous villain of the week. The story is written by Lew Stringer, drawn by Mick McMahon and lettered by Gordon Robson and follows "Doctor Genius", a mad scientist who invented a forcefield designed to stop Tails from beating him. Unfortunately, it stopped him picking up the money in a failed bank robbery and he ended up in prison.
Features
This issue's Graphic Zone had the theme of "Medical Moments", showing Sonic and co. in situations related to doctors, nurses and illnesses. Winners won a Sonic the Hedgehog watch. Speedlines had opposing views on the character Grimer as well as an enquiry into who Morain was. Both characters were announced to be returning soon. All entries here won an Enamel Badge.
Staff
Timeline
The previous issue of Sonic the Comic was Issue 137. The next is Issue 139.
Community content is available under
CC-BY-SA
unless otherwise noted.