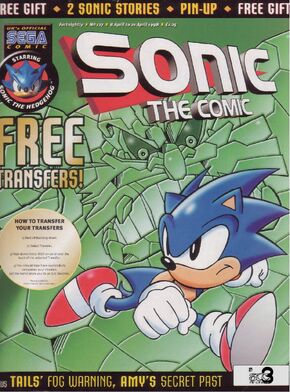 Issue 127
is the one hundred and twenty-seventh edition of
Sonic the Comic
. Released on the 8th April 1998 at the price of £1.25, the issue contains four original stories (three of them new), as well as several features, a
Knuckles
pin-up
and a
free gift
of
STC Transfers
by
Carl Flint
.
Contents
Strips
Sonic the Hedgehog
Robotnik Reigns Supreme is a major 3-part Sonic story that sees Doctor Robotnik gain supreme power over Mobius. Created by the team of Nigel Kitching, Richard Elson and Tom Frame, Sonic and Tails return to the Floating Island, where Knuckles is unsure what to do about the statue of Doctor Robotnik. Things are not as they seem, as Robotnik is still alive and now has the power of the Chaos Emeralds! Even Knuckles' attempt to reverse things with the Master Emerald fails and the heroes are left with the horrifying concept that Robotnik is now invincible.
Tails
Fog Warning is a complete story written by Lew Stringer, drawn by Nigel Dobbyn and lettered by Elitta Fell. Tails responds to a distress call from Johnny Lightfoot when the Sun Valley Zone becomes shrouded in fog. When Johnny goes missing, Tails is left to fight the dual threat of Agent X and Windy Wallis on his own.
Amy Rose
Amy's Secret Past is a flashback to the past of Amy, as chronicled by Stringer, Dobbyn and Ellie de Ville. Robotnik once planned to recreate the experiment that turned Sonic and apparently gave Sonic his powers. The whole thing is ruined by vigilante Amy, who heads to Robotnik's base and destroys the machine. Robotnik hurls her into the explosion, but the blast turns her pink...
Double Sonic
Taking the Plunge is the second part of a 2-part story following the citizens of Trituna. Written by Stringer, drawn by Mick McMahon and lettered by Gordon Robson, the story follows Sonic as he begins his fight with Jimmy Whale. The invading Tritunans are then forced back to their Zone when Robotnik's serum runs out. Sonic follows them down, showing off his new swimming skills before exposing Sharka Khan as a fraud.
Features
The Control Zone, hosted by Megadroid, welcomes Boomers to the Easter issue, perhaps overexcitedly in capital letters. There is also news on how to use this issue's free gift, which is transfers of Sonic, Tails, Knuckles, Robotnik and the Chaotix Crew.
This issue's Graphic Zone is labelled "Chocs Away", with Sonic, Tails and Robotnik enjoying the dictator's favourite holiday. Every printed picture earns the creator a Sonic the Hedgehog watch.
Staff
Timeline
The previous issue of Sonic the Comic was Issue 126. The next is Issue 128.
Community content is available under
CC-BY-SA
unless otherwise noted.