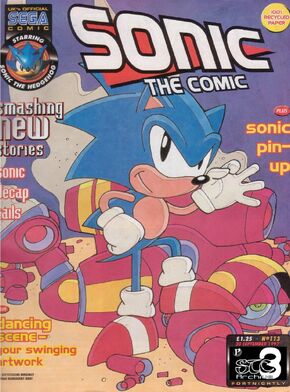 Issue 113
is the one hundred and thirteenth edition of
Sonic the Comic
. Released on the 17th September 1997 at the price of £1.25, the issue contains four original stories (three of them new) as well as several features, a
Sonic the Hedgehog
pin-up
and an
STC Stickers
free gift
.
Contents
Strips
Sonic the Hedgehog
The Detour is a complete story written by Nigel Kitching, drawn by Richard Elson, coloured by Nigel Dobbyn and lettered by Tom Frame. Sonic and Tails have found themselves lost and they're not even sure they're on Mobius anymore. The situation gets worse as they find themselves lost in a maze, tackled by a minotaur and forced to do battle with a herd of yetis. Tails realises someone must be listening to him and Sonic confronts the Tantaror menace responsible for summoning the monsters.
Tails
Fall of the Leaf is a 2-part story by Lew Stringer, Dobbyn and Elitta Fell. Tails has visited the Eldorado Zone for a veggie burger but is forced to help the citizens when a Drill-Bot attacks a restaurant. Things get even worse for him when a tiara is stolen from Mrs. Curly-Smythe's apartment and the security print-out suggests that Tails was responsible for the theft.
Decap Attack
The Fearless Monster Hunters is a complete story by Kitching and Richard Rayner, with letters by Ellie de Ville. Colonel Boldwig-Smythe and son Giles have come to Transylvania to find Castle Frank N. Stein and its resident, Chuck D. Head. After getting hopelessly lost, they find Igor in the Castle View Tea Shop, who happily reveals Chuck to the hunters. When the Colonel denounces Chuck as a fake, they decide to go home and search for more monsters.
Amy & Tekno
Spaced Out is a 3-part story by Stringer, Roberto Corona, Dobbyn and Frame. The Insectra Empire's ship has been shot down onto a planet by The Blurrgh. The enemy soon arrives and the two plan to continue the conflict on the planet, but the native population Kaamdaarn reveal that this is a peaecful planet. When the two invaders try and exterminate the Kaamdaarn, they find that weapons have no effect. Troops on both sides give up on the war and agree to live a calmer life on this planet. With Shortfuse the Cybernik also staying, Amy Rose and Tekno the Canary begin to look for a way home.
Features
This issue's Control Zone sees Megadroid introducing the stories and features inside and urges Boomers to start using the stickers on the front cover. Next issue's free gift of a ruler is also teased, with a riddle given so that readers can guess what the gift is.
Speedlines is full of jokes this week, with the budding comedians receiving an Enamel Badge. The Graphic Zone theme is "Let's Dance", with Sonic, Amy and Doctor Robotnik enjoying a spot of ballet. Published pictures won the artists a Sonic the Hedgehog watch.
Staff
Timeline
The previous issue of Sonic the Comic was Issue 112. The next is Issue 114.
Community content is available under
CC-BY-SA
unless otherwise noted.