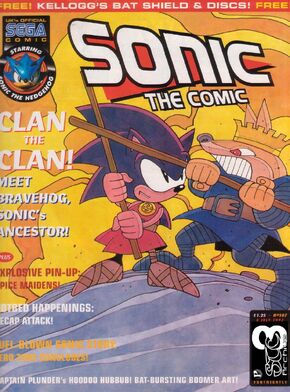 Issue 107 is the one hundred and seventh edition of Sonic the Comic. Released on the 25th of June 1997 at the price of £1.25, the issue contains four original stories (two of them new), as well as several features, a free gift of a "Bat Shield and discs" and a Spice Maidens pin-up.
Contents
Strips
Sonic the Hedgehog
Bravehog is a complete story by Lew Stringer, Mick McMahon and Elitta Fell. After saving a hooded figure from a Badnik attack, Sonic reveals the history of Bravehog, Sonic's ancestor who stood up to the evil King Leer. The hyenas conquered tribes such as the badgers and stags but nobody would help each other. Bravehog tried but was sentenced to have his spikes cut off in punishment. Seeing this cruelty, the other free men rallied together. In the present, the hooded figure is revealed to be a hyena descendant.
Captain Plunder
Captain Plunder and the Spice Maidens is a 6-part story, written by Nigel Kitching, drawn by Nigel Dobbyn and lettered by Fell. After breaking into a tomb, Plunder is cursed with The Curse of Akotek. He is now afflicted with a lifetime of bad luck, shown when he falls, gets his head stuck and gets trapped amongst some axes. Back on the ship, Plunder is made to sail behind in a rowing boat, but is attacked by a shark.
Decap Attack
Caught By The Prefects is a 2-part story by Kitching, Richard Rayner and Ellie de Ville. When Chuck D. Head is attempting to get satellite television, a lightning bolt strikes him and causes an explosion, giving Professor Frank N. Stein amnesia. In hospital, the doctor says he's delirious, but he'll be fine. Frank leaps out of bed and destroys the television, causing the others to angrily chase after him.
Double Sonic
Zero Zone is a 2-part story written by Stringer, with art by Andy Pritchett and John M Burns, lettering by Tom Frame. Sonic has been brainwashed and is shown around Perfection by Citizen Two. However, Sonic accidentally reveals he has not been altered and uses a Blast Attack to oust Citizen One as a computer program. The lonely citizen changes the Zone to become a fairground that attracts plenty of people.
Features
Megadroid hosts the Control Zone, wondering where the Humes are (possibly eating cereal to obtain the gifts inside). There is also news that STC is to be printed on recycled paper, much to Doctor Robotnik's disgust. In the Sega Charts, Sonic 3D is still top of the Mega Drive chart but only fourth for the Saturn, Manx TT being the non-moving leader there.
Chris Jones presents an edition of the Review Zone, awarding Saturn Bomberman 81% but wondered if it was "a Mega Drive game in disguise". To continue with the Batman celebrations, the Graphic Zone is titled "Batty Zone", with Sonic, Tails and Amy Rose dressing as characters from Batman and Robin. All printed pictures won the artists a pack of Crayola Mini Stampers 2.
Megadroid returns to answer letters in Speedlines, where Boomers ponder about the debut of the Metallix Mark 3, there's an objection to a Graphic Zone entry in Issue 97 and a mis-spelled joke sees Tails visit a tailor for a transplant. Everything published in Speedlines won a Sonic 2 Crucial Cup.
Staff
Timeline
The previous issue of Sonic the Comic was Issue 106. The next is Issue 108.
Community content is available under
CC-BY-SA
unless otherwise noted.