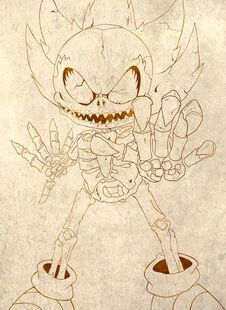 Hallowe'en Wallpapers
is a special edition of
Sonic the Comic Online
. Released on the 31st October 2011, the issue is largely similar to the previous
Hallowe'en Wallpapers
feature, with a collection of
Hallowe'en
-themed
pin-ups
.
This time, instead of Sonic the Comic characters dressing up in fancy dress, the theme of this year's edition is closer in line with Hallowe'en's "horror" idea. The majority of the pin-ups show regular STC characters altered to show their skeletons.
The wallpapers are currently a separate part of Issue 256, with a link from the issue's pin-up section.
Wallpapers
As of 14:30 on the release date, a number of posters were yet to be added, including one of Tails. The release of Issue 256 saw some more added to the collection:
At least one wallpaper is still missing, including one mentioned by Fenikku in the issue's Message Zone thread.
Big's wallpaper is a departure from the others, with the cat standing behind a monitor that shows readers what is in his stomach. The poster suggests that Big has recently eaten a bomb, a TV, a drink (and its carton), a whole burger, a skull, a frog, a entire sack, a Caterkiller and the meaning of life.
Staff
Calisto and Adamis also simultaneously announced the issue's release on the Message Zone.
Timeline
The previous issue was Issue 255, although the previous special was Hallowe'en Wallpapers 2010. This is the current special, with Issue 256 appearing a few days later.
Community content is available under
CC-BY-SA
unless otherwise noted.