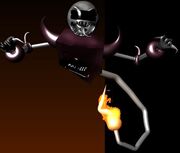 Hallowe'en
(often known as
Halloween
or
All Hallows Eve
) is a holiday observed on
Planet Earth
and
Mobius
. Although its origins are unclear, it seems to have derived from the Celtic holiday of Samhain. The festival, occurring on the 31st October every year, is marked by "trick or treating" (children in scary costumes calling from door to door for sweets), making jack-o-lanterns out of pumpkins and
ghost
stories that are extended to tales of
vampires
,
goblins
,
skeletons
and zombies.
Although it has featured in Sonic the Comic, the festivities of Hallowe'en are rarely seen on Mobius. On the other extreme, there are Zones such as the Haunted Zone that are completely dedicated to the day. Certain issues on some years are "Hallowe'en specials", although the actual content surrounding the theme varies from year to year:
Issue 12 was the first Hallowe'en special, with a Decap Attack themed front cover. Apart from a teaser in Issue 11 that made out that all the issue's stories would be "scary", this was the only Hallowe'en aspect.
After skipping 1994, Issue 64 celebrated Hallowe'en with a free gift of a Sonic the Hedgehog mask, intended as a mask to use for trick and treating, despite it not being remotely scary. Megadroid got in the spirit by wearing a wizard's hat, the background was a mystical purple colour, there was a Hallowe'en competition and a special Graphic Zone showing Sonic and friends as vampires and witches.
Issue 89 also made some effort, the front cover showing Sonic riding a broomstick over a graveyard, accompanied by a free gift of a Goosebumps album and stickers. Another Hallowe'en Graphic Zone appeared and the crew of Decap Attack were left to deal with a pumpkin infestation. Speedlines joined in with some more themed pictures.
Issue 116, while rather late, also had several Hallowe'en treats, from another spooky Graphic Zone to two seasonal stories - another attack of the pumpelkins followed by Amy & Tekno's trip to a haunted house in the Old Hill Zone. To round things off, a reader sent in a picture of Sonic posting with Casper the Friendly Ghost.
Issue 141 includes the aforementioned adventure in The Haunted Zone, Sonic's first Hallowe'en story. Tails has two Hallowe'en horrors in one issue and there's the usual installment of the Graphic Zone.
Issue 218 had a "ghost whistle" as the free gift.
Sonic the Comic Online
The online continuation of Sonic the Comic Online reintroduced the tradition of themed issues:
While waiting for Issue 253, a special Hallowe'en Wallpapers edition was released, showing many of STC's characters dressed up as another Sega character to go trick or treating.
In 2011, the feat was repeated as the Hallowe'en Wallpapers 2011 special, with the theme now being STC skeletons and X-rays. This collection of images was later moved to be part of Issue 256.
Community content is available under
CC-BY-SA
unless otherwise noted.