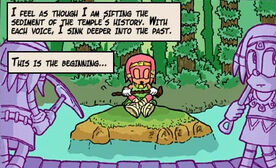 Coming Home is a complete
Tikal
story which appeared in
Issue 233
of
Sonic the Comic Online
.
Staff
Script: Ed Reynolds
Art: Matthew Allen Smith
Lettering: Kerrie Mock
Story
The amnesiac Tikal, seeking answers as to why she is still alive, has come to the ruins of the Temple of Tikal. As she meditates, she hears voices of Echidna spirits and memories, seeing visions of when the Echidnas built the temple. When the voices fade and Tikal opens her eyes, she finds her standing in a vortex of moaning, tormented Echidna spirits. The ghosts reveal that Tikal has strayed into the realm of the God of Death, and they await his return. As one reaches out for her, she retreats to the riverbank. Once there, the temple reverts to its previous state, the ghosts disappearing too. Tikal theorises that something evil and dangerous was there before, but her ancestors must have banished it. She quickly leaves, not noticing a message scratched onto a nearby pillar: Vichama is coming home....
Timeline
This is the first Tikal-centric story. The next story was Emergency Program One.
Community content is available under
CC-BY-SA
unless otherwise noted.