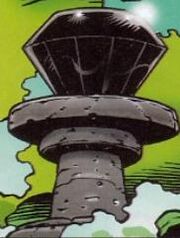 The Black Emerald is similar to the Chaos Emeralds in shape. It existed only in the Shadow Dimension and was responsible for keeping the whole world intact. A bespectacled shadow accidentally revealed that smashing the Black Emerald would spell the end of the dimension, so Sonic the Hedgehog went to do just that. His progress was impeded by one shadow turning into Sonic's double, but the fake wasn't fast enough to stop the Black Emerald from being smashed. With the Emerald gone, the Shadow Dimension was completely ripped apart. It was never explained how the Black Emerald looked exactly the Chaos Emeralds.
Appearances
Community content is available under
CC-BY-SA
unless otherwise noted.