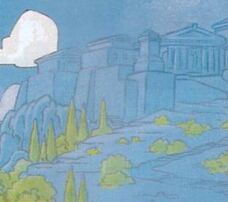 Greece
is a country on
Planet Earth
. Many myths came from the country's early days and this is the aspect of Greece focused on in
Sonic the Comic
.
History
During their travels through the Ring of Eternity, Amy Rose and Tekno the Canary arrived in Ancient Greece at a time when Hercules was performing tasks for Eurystheus. During these Twelve Labours, Hercules had battled Medusa and the Hydra but had still not been accepted into Mount Olympus by his father, Zeus. He was eventually challenged by a minotaur, but had to be saved by the Mobian ladies. Noting that he had the wrong idea about the heroes, Zeus soon appears to give his son a makeover and entry into Olympus. After the adventure, Amy developed a taste for Greek food and learned more about the Medusa legend, a Gorgon.
Whilst touring Shanazar, Amy and Sonic the Hedgehog were confronted by Medusa, who was now immune to her own magic. The monster could turn anything that looks into her eyes into stone, so the heroes had to find another way to defeat her. With the help of a sandy Kalus, Sonic blinded her and Amy knocked the foe out.
A minotaur was also conjured by a Tantaror child to "play" with Sonic and Tails.
Away from Mobius, Trident, one of the Eternal Champions, hails from the fallen city of Atlantis. The mythical city was said to be somewhere near Greece, but was felled by the Roman Empire. Trident is the only surviving citizen. The city also appeared in the Ecco the Dolphin series as the home of the glyphs.
Appearances
Not including Atlantis.
External links
Community content is available under
CC-BY-SA
unless otherwise noted.